EWING, NJ … Amidst fierce competition, Sustainable Jersey – a program of The College of New Jersey's Municipal Land Use Center – won the national Ashoka/Community Matters Changemakers competition, "Strong Communities: Engaging Citizens, Strengthening Place, Inspiring Change." Sustainable Jersey will receive $5,000 and recognition as the top social change innovation in the country.
The Strong Communities competition was designed to identify innovative projects and ideas that engage citizens to steer change and build strong communities across the United States and Canada. Sustainable Jersey was selected from 260 entrants in the competition.

The entrants were narrowed to eight top programs by a panel of expert judges including Majora Carter, Founder of Sustainable South Bronx and President of the Majora Carter Group; Rich Harwood, Founder and President of the Harwood Institute for Public Innovation; Jared Duval, author and Fellow at Demos; and Bonnie Shaw, Founder and Director of BYO Consulting.
As a finalist, Sustainable Jersey won a free trip to the national CommunityMatters'10 conference in Denver, Colorado from October 5-8, which brought together leaders, thinkers and doers working to build stronger communities. Sustainable Jersey program founders Randall Solomon and Donna Drewes of Municipal Land Use Center at The College of New Jersey (MLUC@TCNJ) and Fred Profeta, Jr. of the New Jersey State League of Municipalities' Mayors' Committee for a Green Future went to Denver to make a presentation to the conference attendees. On-line voting allowed the general public to review the entrees and vote for the finalists. Sustainable Jersey was announced the winner on October 8 in Denver. Contributing to the win was a social media campaign that activated a network of over New Jersey Green Teams in over 300 municipalities, community members, state and local agencies, academic institutions, businesses and sponsors to vote for the project on-line. TCNJ faculty and staff joined in and TCNJ Bonner Community Scholar Shaun Field, a junior studying biomedical physics and Spanish, rallied the student body.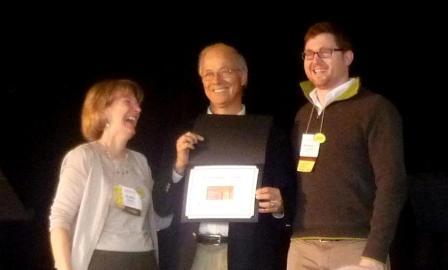 Supporters and friends of the program were engaged not only across New Jersey, but also nationally and even internationally. "Literally thousands of people have contributed to what Sustainable Jersey is so far. We're excited to bring home this win to New Jersey," said Randall Solomon of TCNJ. "Sustainable Jersey has empowered our municipalities and citizens to work together for a more sustainable future and our network of supporters certainly rallied during the on-line voting." Sustainable Jersey won by a significant margin after capturing approximately 52 percent of the total vote.
Sustainable Jersey is the most successful statewide municipal sustainability certification program in the country. Over 6,700 people in New Jersey have participated in statewide training and outreach events in 2010. The program has distributed over half a million dollars to New Jersey communities to support an estimated 1,500 actions taken "on the ground" to make communities more livable, environmentally friendly and prosperous. Sustainable Jersey now looks forward to its annual Sustainable Jersey Awards Luncheon on November 16 at the NJLM Annual Conference to recognize municipalities that have registered, achieved certification and demonstrated outstanding achievement.
For more information, contact Brian Reilly, executive director of TCNJ's Municipal Land Use Center at 216.659.6287 or reillyb@tcnj.edu
About Sustainable Jersey
Sustainable Jersey is a certification program for municipalities in New Jersey that want to go green, save money, and take steps to sustain their quality of life over the long term. New Jersey is the first state in the nation to have a comprehensive sustainability program for communities that links certification with strong state and private financial incentives, and a fully resourced program of technical support and training. Over 300 of New Jersey's towns and cities (55 percent, or 312 towns across all 21 counties) have registered to become Sustainable Jersey certified. By supporting community efforts to reduce waste, cut greenhouse gas emissions, and improve environmental equity, Sustainable Jersey is empowering New Jersey towns to build a better world for future generations.
Sustainable Jersey is a collaborative effort between the New Jersey State League of Municipalities' Mayors' Committee for a Green Future and the Municipal Land Use Center at The College of New Jersey, in partnership with the New Jersey Department of Environmental Protection, and the New Jersey Board of Public Utilities. The policies and other substantive contents of the program are developed though a transparent participatory process involving NGOs, academics, government, and the business community. Program sponsors include the Geraldine R. Dodge Foundation, PSEG Foundation, New Jersey Natural Gas, Church and Dwight, Covanta Energy, Elizabethtown Gas, Nautilus Solar, the Smart Energy Group, United Water, Verizon and CDS-Xerox. www.sustainablejersey.com
About CommunityMatters
CommunityMatters is an interactive exchange for individuals and organizations working to engage citizens and build strong, vibrant communities from the ground up. CommunityMatters fuels a growing network of leaders, thinkers and doers in a variety of disciplines – planning, sustainability, health, democracy, education, economic development, and the arts. CommunityMatters is a project of the Orton Family Foundation, in collaboration with other partners. www.communitymatters.org