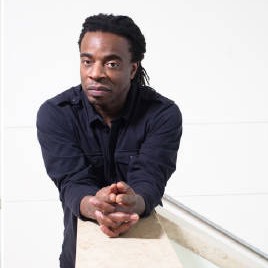 EWING, NJ … New Jersey artist Willie Cole, creator of TCNJ's "Pixels" and a specialist of found-object sculptures, will present some of his transformative works at an upcoming College Art Gallery exhibition from Oct. 27-Dec. 8.
"I aimed to assemble an exhibition that puts Pixels into context and allows a deeper understanding of this important American artist's body of work," Sarah Cunningham, College Art Gallery director, wrote.
Cole's award-winning work has been shown in the Museum of Modern Art and the Whitney Museum of American Art in New York City, the Philadelphia Museum of Art, the National Gallery of Art in Washington D.C. and other noted galleries.
The showcase will span twenty years of work, starting with early displays that blur the lines between consumer and product, and featuring object-based pieces like "Wind Mask," a ghastly face made of used hairdryers, and "Double-Headed Gas Snake," a minimalistic critique of the oil industry.
The exhibition will include works of various techniques, colors and proportions — one comprises 138 bowling balls, painted over with the flags of the world.  With the careful and witty arrangement of objects and designs, each artwork melds bits of the everyday into a larger political or cross-cultural context.
The campus community is already familiar with one example of Cole's work — the sparkling, colorful spheres, entitled "Pixels," that have stood outside the College's Art and Interactive Multimedia Building since last year.  Cole's solo exhibition will give community members the chance to explore the depth of his artistry.
"Cole demands that the viewer reevaluate the very essence of how things in general, and art in particular, are made," Cunningham said.
The artist will address the campus and visitors on Nov. 18 in the Mildred and Ernest E. Mayo Concert Hall in the Music Building from 11:30 a.m-12:30 p.m., followed by a reception in The College Art Gallery from 5-7 p.m.
For more information, contact The College Art Gallery at tcag@tcnj.edu.