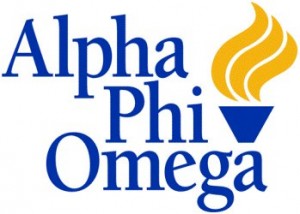 EWING, NJ …  The College of New Jersey chapter of Alpha Phi Omega, the community service fraternity, drew a diverse, energetic crowd to campus on Oct. 16 to raise money to combat hunger and homelessness.
The second annual "Feed Our Friends 5K and Fun Walk" collected $4,500 for two Mercer County charitable organizations — the Trenton Area Soup Kitchen and HomeFront, a non-profit that provides services to the homeless.
"There is clearly such a need. We have seen the lines of people waiting for food," said Melissa Gutworth, president of Alpha Phi Omega's TCNJ chapter. "These organizations provide such great services."
Some participants ran a 5K around the campus perimeter on what turned out to be a cool, crisp day, while others embarked on a more leisurely walk that began at Paul Loser Hall and ended at Brower Student Center. With 250 registrants this year, an increase of 50 over 2009, the fraternity called the event a successful follow-up to the inaugural fundraiser. This year's race also netted 50 percent more in proceeds.
"We increased publicity this year and drew more support from members of the off-campus community. And while it took place over our fall break, a lot of students stayed here to do it," Gutworth noted. "It was so great to see so many members of the campus and community come together to help our neighbors in Trenton."
Integrity Health, a New Jersey-based health benefits management company, sponsored the fundraiser, "providing the generous support needed to make it successful," she added.
In addition to raising money through registrations and donations, the fraternity collected non-perishable food items to give to the Trenton Area Soup Kitchen.
Alpha Phi Omega, a national, co-ed service organization founded in 1925, has active chapters on more than 350 campuses nationwide. For further information about the TCNJ chapter, including its ongoing work with the Trenton Area Soup Kitchen and HomeFront, please e-mail aphio@tcnj.edu.