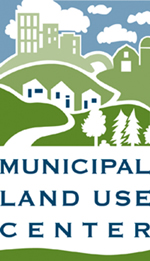 EWING… The Municipal Land Use Center (MLUC) at The College of New Jersey will work closely with officials in Highland Park, Cherry Hill, and Montclair over the next two years to implement energy efficiency measures. The center will advise the municipalities on energy planning for government buildings, help them analyze the costs and benefits of particular conservation measures, and apprise them of applicable federal and state programs to underwrite their investments in new efficiency programs.
The initiative has been funded by a two-year, $500,000 grant awarded by the U.S. Environmental Protection Agency's "Climate Showcase Communities" program, which supports local efforts to reduce greenhouse gas emissions. The MLUC serves as the program administer for the federal grant.
"This is part of the MLUC's a renewed focus on sustainability," said Brian Reilly, the center's executive director.
MLUC was established in 2003 to support municipal governments in meeting the region's land use challenges by identifying opportunities for improved development and redevelopment, open space acquisition, and farmland preservation. In nearly doubling its staff size over the summer, the center has added key expertise on energy matters and now works with agencies such as the New Jersey Department of Environmental Protection and the National Renewable Energy Laboratory to engage municipalities in climate-centered programs.
Later this year, the center will launch a program for Sustainable Governance and Decisionmaking that incorporates its Sustainable Jersey program partnership, extending the center's work in areas such as energy and climate, strategic planning for sustainable development, land-use policy and master planning, and food systems, among others.
"The Municipal Land Use Center was founded to provide support to New Jersey cities and town. Our work applies knowledge and best practices to real world decisions on the ground in communities," Reilly said.
For more information, contact Brian Reilly, executive director of TCNJ's Municipal Land Use Center, at 609.771.2831 or reillyb@tcnj.edu.