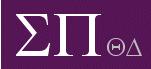 EWING, NJ … It can be a challenge for TCNJ's Greek organizations to find new ways to give back – the brothers of Sigma Pi Fraternity International  literally gave their own blood.
The 20 Sigma Pi brothers who joined the blood drive last spring, aided by other TCNJ recruits, donated enough pints to the Community Blood Council of New Jersey to help save 282 lives. They also came up with a way to leverage that donation. With the more than $1,000 they earned for their pints of blood, they have established a new scholarship fund that will award two, $350 book grants to College students next spring.
The grants will be administered by the Office of Student Financial Services, with input from the fraternity. Awardees must demonstrate need, but also the qualities that Sigma Pi values – leadership, engagement in extracurricular activities, and community service. They will receive a $350 credit on their TCNJ cards and an invitation to a congratulatory luncheon.
"I believe we are the first student organization to ever offer a scholarship of this nature," Carlos Rosado, president of Sigma Pi, said. "We were thinking about ways to give back and decided that we wanted to help individuals on campus. Providing an educational resource is an avenue we haven't gone down, and  through books, we felt we could have an impact."
The drive was such a success that Sigma Pi has already planned a follow-up on  February 15. With the remaining funds from this year, combined with revenues from the new drive, the fraternity plans to make additional book awards.
TCNJ's Sigma Pi chapter, founded a decade ago, strives to have a positive impact on many communities, not just on campus, but throughout the region and the world.
In April, the fraternity organized TCNJ's "Unsung Heroes Week," during which members helped staff from several campus offices – police, dining services, buildings and grounds services, among them – to do their work, including scouring the campus for trash and cleaning up the freshman dorms.
Last May, ten brothers traveled to New Orleans on a week-long mission trip, helping to build homes, among other work. The fraternity also partnered with the entire TCNJ community last spring to raise funds for Haiti relief organizations.
The fraternity regularly contributes to the American Cancer Society's Relay for Life,  the American Red Cross, and The Sam Spady Foundation, which educates parents and students about the dangers of alcohol.