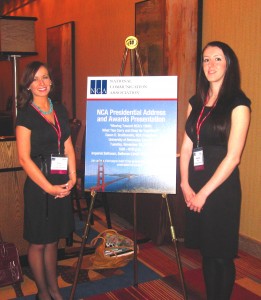 Ewing, NJ…  Putting extra notches in their national records, communication studies students from The College of New Jersey  (TCNJ) won national offices in the national communication student honor society, Lambda Pi Eta (LPE), at the annual conference of the National Communication Association, the largest organization of communication professors in the U.S., held November 14-17 in San Francisco. Emily O'Gorman '11 was elected national vice president of LPE, the sixth in a row from TCNJ. Jacqueline Webb '10, December was elected national secretary of LPE, the third from TCNJ.  Both elections represent new national records for a single school, never before equaled. Eight previous national presidents of LPE have been elected from TCNJ, another national record.  The TCNJ chapter of Lambda Pi Eta won "national chapter of the year" in 2003 for its energetic program.
At the same time, three TCNJ co-authored student papers accepted in refereed competition were presented at Lambda Pi Eta panels.  They included: "National Coverage of Responsibility Towards the Socially and Economically Disadvantaged: A Community Structure Approach",  by Jacqueline Webb of Allentown, Flora Novick '10, of Cherry Hill, Hannah Pagan '11, of Flemington and Marisa Villanueva '10, of  Browns Mills; "Government Assistance Towards the Homeless: A Community Structure Approach", by Amanda Coe '11, of Lopatcong, Timothy Falcone '10, Corinne Barone '11, of Wall, and Emily O'Gorman of Titusville; and "Nationwide Coverage of Universal Healthcare: A Community Structure Approach", by Kristen Kiernicki '09, of Horsham, Pa., Patrick Lavery '10, of Denville, and Caitlin Davis '10, of Woodbury.  All of the papers were written for a communication research methods class taught by Professor John Pollock.       Over one hundred co-authored student papers from Pollock's methods class have been presented by students at professional scholarly conferences, most at national or international levels. Indeed, five co-authored student papers from TCNJ have won the annual Stephen A. Smith award from NCA for "best co-authored student paper of the year", another national record for a single college or university. One of this year's co-authors, Kristen Kiernicki, was co-winner of the 2009 Stephen A. Smith competition for best co-authored paper in the nation, on "Nationwide Coverage of  Accelerated Adolescence".
Commenting on the extraordinary success of TCNJ students, Pollock, department advisor to Lambda Pi Eta and chair of the communication studies department, said: "Our college and the communication studies department are blessed to have so many excellent students win national offices and write papers of such consistently high quality that they attract national recognition.  It is not surprising that the TCNJ communication studies department is recognized as  'a national leader in student-faculty engagement'".