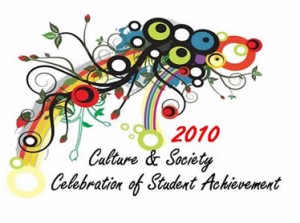 EWING, NJ … About 80 students at The College of New Jersey will present scholarly work on a wide range of topics at the School of Culture and Society's Celebration of Student Achievement on Dec. 8.   The sessions will feature both oral and visual presentations and include research in the fields of English, History, Sociology, Political Science, Psychology, Modern Languages and Women's and Gender Studies.
Via 30-minute poster presentations, paper readings, panel discussions and other activities, students will discuss their findings from independent research, senior thesis or capstone courses, internships, and other scholarly projects. A full list of topics, ranging from Cuban literature, to the Isma'ili religious experience, to American prison reform movements, is available here.
The School will host a kick-off reception at 9 a.m. in the Social Sciences Atrium that is open to the campus community. The presentations will take place in the Social Science Building atrium and classrooms in two sessions: morning (10 a.m.-12 p.m.) and afternoon (1 p.m.-4 p.m.). For more information, visit the Celebration of Student Achievement web page.