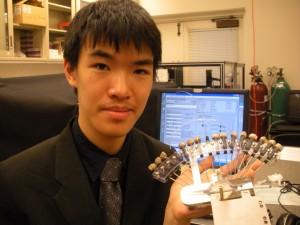 Kevin Chen, a senior biomedical physics major at TCNJ, will be recognized by the American Association for Cancer Research (AACR) as one of 27 recipients of the AACR-Thomas J. Bardos Science Education Award for Undergraduate Students at its annual meeting in Orlando from April 2-6.
Chen, of Freehold, N.J., was awarded for the period of 2010-2011, one of just 10 students selected nationally during that time. Awardees are required to attend scientific sessions at two annual AACR meetings — the April meeting will be Chen's second.
The AACR award serves primarily to inspire science students at the undergraduate level to enter the field of cancer research. It includes a $1,500 stipend to be used for the attendance of meetings and related projects and events.
The AACR is committed to promoting the education and training of the next generation of dedicated scientists, and to facilitating and nurturing their careers in cancer research or cancer-related biomedical science. Since its founding in 1997, AACR Science Education Awards have been supported by generous annual contributions from a distinguished member of the AACR, Dr. Thomas J. Bardos. His contributions are subsequently matched by those of AACR.