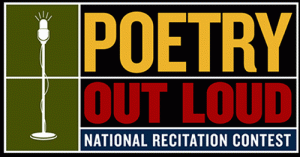 EWING … High school can be a dynamic, life-changing experience, and the young state finalists for Poetry Out Loud aren't holding back.
On Thursday, March 17, from 10 a.m. to 1 p.m., the eight New Jersey students will take TCNJ's Kendall Hall Main Stage to compete for the chance to recite poetry at the National Competition in April.  The spoken-word artists hail from eight schools across the state, and 350-500 students and professionals are expected to attend.
Poetry Out Loud encourages "the dynamic aspects of slam poetry, spoken word and theatre." The finalists started their journey in the classroom and have each won school-wide recital competitions. The winner of Thursday's competition will earn his or her school a $500 stipend for the purchase of poetry books.
The state finals will be hosted by Discover Jersey Arts, in partnership with Playwrights Theatre of New Jersey and The New jersey State Council on the Arts.  Doors open at 9:30 a.m., and a live webcast will air at http://www.jerseyarts.com/pol/live.
Free tickets can be reserved at http://jerseyarts.com/pol/register.asp; tickets will also be available at the door for TCNJ ID holders.
For more information, visit the Discover Jersey Arts website.