EWING, NJ… TCNJ's 2011 BFA students in Fine Arts and Digital Arts will exhibit their thesis projects in an exhibition titled The Way Out Is Through: 2011 BFA Senior Thesis Exhibition. This wide range of media projects — including painting, sculpture, installation, drawing, mixed media, audio, and digital arts — will be on view from April 27-May 7, 2011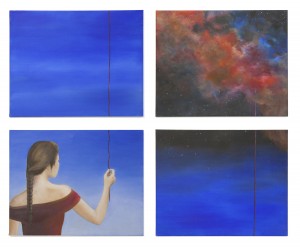 The Way Out Is Through presents the intricate and personal reflections of eleven artists who share an interest in journey, be it through space, artistic process, stages in life, or the progress of social issues.
The Way Out Is Through will be presented in The College of New Jersey Art Gallery, located in rooms 111, 115 & 119 in the Art and Interactive Multimedia Building. A reception for the artists will be held on Saturday, April 30th from 4:00- 7:00 P.M.
Each student will give an artist's talk during the campus-wide Celebration of Student Achievement on Wednesday, April 27th from 2:30-4:30 P.M. in The College Art Gallery.
The exhibit and related events are free and open to the public.
The April 30th reception will be held in concurrence with Sideshow: Senior Graphic Design Portfolio Review presented by the 2011 BFA students in Graphic Design in rooms 114, 116, and 125 of the Art and Interactive Multimedia Building.
For more information on this exhibition or the TCNJ Art Department, call 609-771-2652 or e-mail art@tcnj.edu.