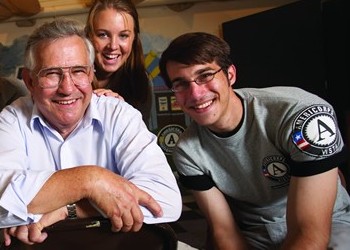 The Bonner Center for Civic and Community Engagement at The College of New Jersey, in partnership with the Bonner Foundation, is proud to announce its partnership with the AmeriCorps*VISTA program to promote the New Jersey Bonner AmeriCorps*VISTA Fellows Program.
Along with hiring two new staff members to the Bonner Center, Heather Camp and Kristi Cordier, this partnership will also include creating a team of 15 AmeriCorps*VISTA positions to enhance volunteerism by mobilizing higher education and community resources to combat a core set of social issues, such as: economic and job development, asset-based community development, hunger, nutrition, and literacy across central New Jersey in the Trenton and New Brunswick areas.
The New Jersey Bonner AmeriCorps*VISTA Fellows Program is a national volunteer service program developed in partnership with two nationally recognized organizations in civic engagement: The Bonner Center for Civic and Community Engagement at The College of New Jersey, and the Corella and Bertram F. Bonner Foundation.
In particular, TCNJ's Bonner Center is currently in the process of recruiting two AmeriCorps*VISTA members to work directly out of TCNJ's Bonner Center.
"Their responsibilities will include researching current employment trends and ob readiness trainings for juveniles and adults facing multiple barriers, in addition to mapping local assets and developing avenues to build employment opportunities in the Trenton and Mercer County area," said Cordier. "Both positions will build systems to link workers to gain and retain employment in industries that provide opportunities for advancement ."
AmeriCorps*VISTA positions are one year terms, and available starting immediately throughout Mercer and Middlesex counties. "We have several positions that are available to work directly with some of the strongest non-profit organizations in the Mercer and Middlesex areas such as, Isles, PEI Kids, Rescue Mission of Trenton, Trenton Area Soup Kitchen, and the New Jersey Anti-Hunger Coalition, as well as, TCNJ, Bonner Foundation, and Rutgers University Civic Engagement and Service Education Partnership Program," said Camp. These positions offer an excellent opportunity to develop concrete skills and knowledge, while networking with top executives in the non-profit, government and for-profit industries. These positions are a great opportunity for recent college graduates or those who want to make a career change.
Prospective candidates are encouraged to email vista@bonner.org or call 609-771-2108 for more information. Job descriptions can be found at www.tcnj.edu/~bonner with applications directly on the www.americorps.gov website – click on VISTA and select opportunities in New Jersey.
About Bonner Center for Civic and Community Engagement at The College of New Jersey
Founded in 2004, TCNJ's Bonner Center for Civic and Community Engagement helps TCNJ maintain its mission to excellence in citizenship and to be a national exemplar in the education of those who seek to sustain and advance the communities in which they live. The Bonner Center for Civic and Community Engagement at The College of New Jersey is responsible for mobilizing faculty, students and staff to help sustain and advance the communities surrounding TCNJ. It cultivates the common ground that exists between the educational mission of the College and the needs of non-profit organizations and neighborhoods. This is done by creating teaching and learning opportunities that simultaneously build the capacity of TCNJ students and these groups and communities. Students become more knowledgeable, skilled and civic minded—while community partners gain additional resources to effect positive change. Visit us at www.tcnj.edu/~bonner