EWING, NJ … The Center for Future Educators (CFE) at The College of New Jersey will host the sixth annual Urban Teacher Academy (UTA), scheduled to take place from July 25 through August 5.
The UTA is a two-week, intensive summer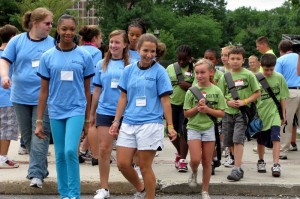 program for high school juniors interested in becoming teachers. This program is especially designed for students who are considering teaching in high poverty schools, hard-to-staff schools, and/or high shortage subject areas such as math, physics, chemistry, biology and general science, bilingual education, ESL, special education, world languages, and technology education.  Future teachers from diverse, underrepresented backgrounds as well as males are particularly encouraged to participate in this program.
CFE Executive Director Larry Fieber, who coordinates the program, said, "We accepted 52 juniors from 28 central New Jersey high schools who bring great enthusiasm, vitality, and the belief that they will make an everlasting impact as teachers to future generations of students."
During the UTA program, students actively engage in lectures and discussions with distinguished TCNJ professors and experienced area educators on topics pertinent to teaching. Students take field trips to area elementary, middle, and secondary schools, the Boys and Girls Club of Trenton, Mercer County Special Services School District, the New Jersey School for the Deaf, the Eden Institute, the New Jersey Education Association, and the Trenton Area Soup Kitchen.  As a culminating activity, UTA students teach math, science, and physical education lessons to elementary children enrolled in a Ewing summer camp.  Participants also complete assignments that challenge them to think about the state of urban schools and to critique national education legislation.
The program offers an excellent balance of practice and theory to sustain a high level of interest, engagement, and learning by participants throughout the program.  The experience is also more than academic.  Fieber adds, "While UTA students come from diverse backgrounds, it is exciting to watch them learn and develop new friendships that will support their respective journeys as future teachers."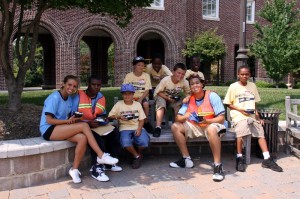 The UTA program is one of several major initiatives sponsored by the Center for Future Educators at TCNJ focused on expanding and diversifying the pool of highly qualified teachers in New Jersey's public schools.  The Center for Future Educators also hosts the New Jersey Future Educators Association, which coordinates the efforts of individual local future educator chapters in middle schools and high schools throughout the state.
For more information about the UTA and other programs and initiatives of the Center for Future Educators, contact Larry Fieber at 609.771.2464, or visit the Center's website at www.tcnj.edu/futureeducators.  The Center for Future Educators at The College of New Jersey is proudly funded by the New Jersey Education Association.