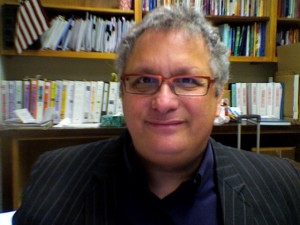 Alan Amtzis, PhD, director of The College of New Jersey's Masters of Education Program in Educational Leadership: Instruction, has been appointed academic co-editor of The Educational Forum. Amtzis will share editorial responsibilities with Kim Fries, PhD, an associate professor of education at the University of New Hampshire. Their two-year terms begin on July 18.
As academic co-editors, Amtzis and Fries will be responsible for soliciting, reviewing, and selecting for publication submissions to The Educational Forum, a quarterly journal produced by Kappa Delta Pi (KDP), an international honor society in education. The Educational Forum is read by practicing teachers in Pre-K–12 and undergraduate students, but university faculty, researchers in education, and administrators also use the journal's reports and essays to inform their teaching and research. The journal is in its 75th year as the cornerstone publication of KDP.
"The work I do at TCNJ has pushed forward my thinking on education and educational research, and prepared me well to assume this editorship," said Amtzis. "I'm really looking forward to this opportunity, and feel the experience will enhance my own understanding of emerging and changing educational issues and research."
"We are thrilled to have Alan and Kim as our new academic editors," said Sally Rushmore, The Educational Forum's managing editor. "I am looking forward to our work together to make The Educational Forum a premier educational journal. It is exciting to have faculty members who were classroom teachers with the skill sets to evaluate and edit critically in so many educational areas."
Amtzis received his PhD in curriculum and instruction from Boston College, following careers as a special education teacher and principal of a therapeutic community school for teens in drug and alcohol recovery. His research interests include the education of students who are marginalized by schools that are unable to address special needs, the development and representation of student voice and perspectives within educational research, as well as teacher research, classroom-based inquiry, and the development of leadership in emerging principals.
Amtzis knows Fries from Boston College, where the two worked on their doctorates under Marilyn Cochran-Smith, PhD, the John E. Cawthorne Millenium Professor of Teacher Education for Urban Schools. Cochran-Smith, a Laureate representative to Kappa Delta Pi's Board of Directors, recommended the two as co-editors because their interests and skills are complementary and they work well together.
"Alan and Kim bring the perfect combination of skills, knowledge, and expertise to this important job as academic editors of The Educational Forum, which is widely read by educators across the country. Both are strongly committed educators, and between the two, they have a wealth of experience in both urban and rural education, both teacher preparation and professional development, both policy and research. They will undoubtedly enhance the quality and vision of this journal."
More information about Kappa Delta Pi and its publications can be found at www.kdp.org.