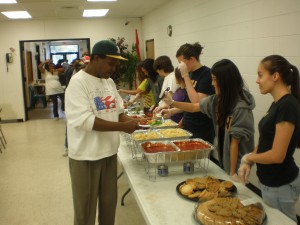 EWING, NJ…  Paula Figueroa-Vega, associate director of the Bonner Center for Civic and Community Engagement at The College of New Jersey, was honored with a "Platinum Explosion/Wall of Heroes Award" by the Trenton Board of Education on June 9, 2011. The award recognized the positive impact that Figueroa-Vega, a Trenton native, has made on young people in her community.
Figueroa-Vega has served as associate director of the Bonner Center since 2008. She is responsible for the Community Engaged Learning (CEL) graduation requirement for first-year students at the College, and also manages two teams of Bonner Community Scholars focused on the environment and homelessness.
She received her award along with over 100 Trenton students from all grades who were honored for their outstanding efforts throughout the year and about 70 community members of the local community.
"Being a Trenton native, I enjoy giving back and feel it is an obligation and a privilegeto do so," said Figueroa-Vega. "Here at TCNJ, I am blessed with the ability to create projects that benefit the community while providing an opportunity for our students to learn from real life experiences."
Each year, her task at the College has been to ensure that over 1,200 first-year students meet their eight-hour service requirement. Most of these requirements are fulfilled in the local Trenton area. Past projects have included student participation in enrichment programs at Hedgepeth/Williams schools, mural painting at Trenton Central High School, and work at the Trenton Area Soup Kitchen, Habitat for Humanity, and the Rescue Mission of Trenton.
Beginning in 2008, the Environment Team has organized many Trenton clean-up days, bringing together close to 200 volunteers to help clean up the Delaware and Raritan Canal area. Figueroa-Vega often works alongside the volunteers she directs.
In fact, it was the sight of Figueroa-Vega on a recent Saturday canal clean-up day—working alongside students from the College, Cadwalader Elementary School, and Trenton Central High School— that led an impressed onlooker to nominate her for the award. Figueroa-Vega called it an "unexpected surprise."
This year, the Environment Team organized the event "Reduce for Good Use." The event encouraged students to place unwanted items — such as shoes, bedding items, housewares, books, storage bins, furniture and electronics/appliances — in designated donation bins before leaving their dorms for the summer. The items were donated to the Rescue Mission of Trenton.
Before joining the Bonner Center, Figueroa-Vega worked for 13 years in the non-profit sector, managing and directing social service programs that addressed drug and alcohol recovery, domestic violence and sexual assault, and stabilizing services for children who are at risk.  In 1999, she helped establish El Centro de Recursos para Familias, a multi-family community support and building program that is specifically focused on meeting the needs of Latino families in Mercer County.  Most recently, Paula ran one of the largest divisions of Womanspace Inc., the leading agency for survivors of domestic assault in Mercer County.
Figueroa-Vega was born in Trenton and lived eight years in Puerto Rico before returning to the Trenton area. She has a master's degree in public administration from Rutgers University and currently resides in Lawrenceville. She maintains strong ties with the Trenton community, and continues to worship in a local Trenton church.
For more information, please contact Paula Figueroa-Vega at pfiguero@tcnj.edu, or visit [ELW2] http://bonner.pages.tcnj.edu/.