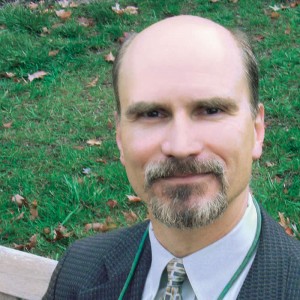 EWING, NJ… Taras Pavlovsky, dean of the library at The College of New Jersey, has recently been named chair of the Virtual Academic Library Environment (VALE) of New Jersey. He will serve two years in the new position. VALE is a consortium of New Jersey academic institutions that is dedicated to furthering excellence in learning and research through innovative and collaborative approaches to information resources and services.
Pavlovsky has previously served four terms as a member of the VALE Executive Committee, from July 2003–June 2011. He also servesas chair of the VALE Open Library System (OLS) Steering Committee, which promotes the adoption of a shared, open-source library system for NJ academic libraries.
Since 2006, VALE librarians have been working in the OLS arena, working to unify their policies and collaborate in their operations. The adoption of a shared, open-source OLS will allow participating institutions to coordinate and support online services, and decrease their reliance on commercial system vendors.
Users will be able to find resources on a catalog shared by all participating libraries, and then engage in direct borrowing across the combined holdings of member institutions. Scholarly materials borrowed from another institution would be delivered to the user's own library.
Thanks to Pavlovsky, the College has been a leader in the movement toward OLS implementation. Other institutions participating in the development phase of the VALE-OLS project include Drew University, the New Jersey Institute of Technology, Rutgers University, and William Paterson University. Twelve other New Jersey institutions of higher learning have agreed to adopt the system once it is available, and many of the 35 remaining institutions have expressed interest as well.
The VALE-OLS project intends to implement the Open Library Environment (OLE) software package, currently being developed by the Kuali Foundation. The anticipated release date is July 2012. After an expected one-year development and testing cycle, early implementers will begin their transition to the VALE-OLS during the 2013–14 academic year.
In his new role as chair of VALE, Pavlovsky will be spear-heading this effort, among others, to bring the College into the next generation of advanced information sharing.
"I am deeply honored to have been elected to serve as VALE's next chair," said Pavlovsky. "I am also excited about being in a position to help move the organization and several of its key initiatives forward. The OLS project, in particular, has the potential to literally revolutionize the way academic libraries go about their business."
Founded in 1998, VALE is a grassroots organization of New Jersey college and university libraries plus the New Jersey State Library. In the December 2010 Report of the Governor's Taskforce on Higher Education, the VALE consortium was commended by the taskforce as an outstanding example of collaboration between colleague institutions that had led to "increased efficiencies and productivity." For more information on VALE, please visit http://www.valenj.org/, or contact Taras Pavlovsky at pavlovsk@tcnj.edu.