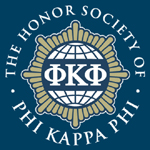 EWING, NJ … Andrea Ortu, a 2011 graduate of The College of New Jersey, was selected as one of 57 students in the country awarded a $5,000 Phi Kappa Phi Graduate Fellowship for this year.
Phi Kappa Phi is the largest, oldest and most selective national honor society, with chapters in over 300 institutions nationwide and in the Philippines. Each chapter selects only one nominee for the award based on academics, leadership experience, community service and a personal statement.
A resident of Hillsborough, Andrea majored in political science and minored in economics and women's and gender studies. "I was very surprised to receive the fellowship." she said, "I think it will only inspire me to continue to promote scholarship and community." The fellowship will help fund her plans to enter a dual-graduate program in public policy and management at Carnegie Mellon University.
Nine TCNJ seniors have been awarded the PKP Scholarship since 2000. More information about the PKP awards can be found here: www.phikappaphi.org/Web/Awards/Fellowship.html.