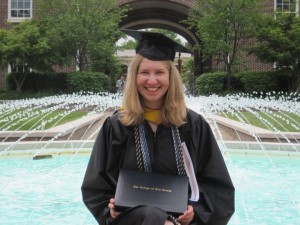 EWING, NJ … Alicia Hill '11 has been selected to receive a 2011 New Jersey Distinguished Student Teacher Award. Hill is one of only 15 students statewide chosen for this distinction.
"I was ecstatic at the news," said Hill, who double-majored in early childhood education and psychology. "I am honored to be among such outstanding educators."
Hill credits TCNJ's teacher preparation program with her success.
"I think that TCNJ does a fantastic job of combining in-class learning about teaching theory and curriculum and several field experiences that allow you to practice teaching in many different communities and grade levels," she said. "My professors were always very supportive and gave me useful feedback on my lessons and teaching so that I knew specifically where I could grow and challenge myself."
Mark Kiselica, interim dean of the School of Education, said, "We are very proud of Alicia, not only because her work reflects positively on TCNJ and is an indicator of how well we prepare future educators, but also for the tremendous impact Alicia has had on the students she taught this past year during her student teacher experience."
"The main thing about Alicia is that she has wonderful content knowledge and she uses it in dynamic and creative ways," said Blythe Hinitz, early childhood education professor. "She had that as a freshman, and it deepened as she grew."
This award is given annually by the New Jersey Department of Education, which invites all New Jersey colleges and universities with student teaching programs to nominate three students for the award.
Hill, along with the other winners, was honored at an awards ceremony at Rider University on June 29.
For more information about the New Jersey Department of Education's recognition awards, visit http://www.state.nj.us/education/clear/
###