EWING, NJ… The Bonner Center for Civic and Community Engagement at The College of New Jersey commemorated the 30th anniversary of Isles, an award-winning Trenton nonprofit that works to promote self-reliant families in healthy, sustainable communities in Trenton, on July 16. Isles has been a Bonner community partner since 2009.
This year's House and Garden Tour was the 23rd tour Isles has offered to the community since it began its work in 1981. Founded by students and faculty of Princeton University, Isles is a community development and environmental organization. Isles' mission recognizes that the health of people depends in part on the health of the place where they live.
Attendees of the House and Garden Tour met with local gardeners and students of Isles' YouthBuild Institute (IYI), an alternative school and training center founded by Isle in 1995. The tour included a lunch of local fresh garden produce and area dairy farm.
According to Isles' Director of Food and Environment Meredith Taylor, over the past two years Bonner Scholars and TCNJ students have participated in community service days at several of Isle' community and school garden sites in Trenton, including one at Hedgepeth-Williams School, an urban K-8 school. In spring 2010, Isles was asked to host the environmental team of Bonner Scholars, which worked regularly with Isles staff at the garden sites.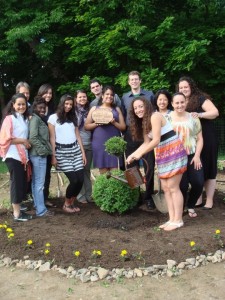 "The Bonner Center has also organized larger groups of TCNJ's student body for community service days to help clean up and beautify existing gardens, and prep new garden sites," said Taylor. "Having teams of engaged and hard-working students to assist us in delivering needed services to the community has been very helpful and adds tremendous value to our work."
According to Taylor, since 2010, other teams of Bonner Scholars have also been involved with mentoring and tutoring YouthBuild students, offering enrichment activities to the 18- to 25 year-old participants in the program.
YouthBuild students are Trenton youths who have struggled in conventional school settings and/or have been incarcerated. IYI offers students a path to a state-recognized high school diploma, as well as a career. Students learn life skills, such as conflict and finance management, receive health education and counseling services, and gain skills in computer technology, office administration, and construction.
According to Pat Donohue, director of the Bonner Center, these Bonner activities at IYI have included writing workshops and the completion of an asset-map of the Old Trenton neighborhood, so that Isles has the information it needs to involve residents in making planning decisions about their neighborhood.  The Bonner Staff and YouthBuild students worked on this project with a marketing class of Karen Becker-Olsen, associate professor of management, marketing and international business.
"Part of our job is to integrate the needs and interests of our partners into the curriculum," said Donohue.
"Isles is a great partner," added Donohue. "[Isles] sees the value in shaping community-engaged learning projects that advance their critical mission to develop self-sufficient families and communities—as well as provide meaningful learning opportunities for our students. We think they are one of the best non-profit community development organizations in the country."
For more information on the Bonner Center at TCNJ, please visit http://bonner.pages.tcnj.edu/. To learn more about Isles, please visit www.isles.org or e-mail info@isles.org.