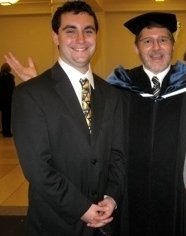 EWING, NJ…Rising TCNJ senior Bryan Furman has received a Boren Award for study abroad in Moscow in the 2011-2012 academic year. Boren Awards are highly competitive academic scholarships awarded by the federal government to only the best and brightest undergraduate students in the country. Furman, a psychology and international studies double major with a minor in Central Eurasian Studies, is the first Boren Award recipient at the College.
Those who apply for a Boren Awards must seek to study abroad in areas of the world that are critical to U.S. interests and underrepresented in study abroad, outside of Western Europe, Australia, Canada and New Zealand. The award is funded by the National Security Education Program, which was established in 1991.
After graduation, students have three years to complete a one-year, paid service requirement, working full-time in a job in the federal government and sharing their language and area studies knowledge in the Department of State, the Department of Defense, or another federal office with an interest in national security.
As part of his award, Furman was accepted to participate in the study-abroad program of the American Council of Teachers of Russian and will study at International University in Moscow for the entire academic year.  In the spring 2012 semester, he will participate in an internship that will allow him to apply skills learned in TCNJ psychology classes while researching the attitudes of ethnic Russians toward the Muslim Uzbek migrants living in their society.
Bryan has also won a scholarship to a summer program at the Washington Center.  Before going to Washington, he will be spending a month in Uzbekistan in order to work on his Uzbek language skills and learn more about Central Asia.
"After settling into my academic career at TCNJ, I realized my passion for understanding political and social events in Balkan, Middle Eastern/North African, and CIS countries.
Specifically, I have focused my research on ethnic conflict. Working in the national security sector provides an opportunity to continue this research while protecting my country, as understanding regional conflict is vital to international security and stability," said Furman.
Furman is a conversation hour facilitator for Russian and tutor for Russian. He was also enrolled in independent study in Advanced Russian the past fall and spring semesters with Dean of the School of Humanities & Social Sciences and Professor of Russian Benjamin Rifkin, who has spent many years in Russia himself.
Furman has received extensive support from the College's faculty. During the 2010 Maymester, he traveled to Tajikistan and Uzbekistan on the Student-Faculty Silk Road Study-Tour, a course with history professors Jo-Ann Gross and Cynthia Paces, and he has "a passion for all things Russian" thanks to his Russian coursework at TCNJ and at the Middlebury Russian School last summer in Vermont, said Rifkin.
"Bryan is the best — not one of the best, but the best — student of Russian with whom I have worked in over 25 years of teaching Russian at the college level at the University of Michigan, the University of Wisconsin, Temple University, and the Middlebury College Russian School.  When teachers of Russian speak with Bryan, they simply cannot believe that he has not yet studied or lived in Russia," said Rifkin.
According to Jon Stauff, director of global engagement at the College, the Russian language program at the College has recently been "reborn," thanks to Rifkin.
"Bryan is one of the first students we are sending to Russia for a semester or a year of study abroad.  We have had shorter-term programs led by TCNJ faculty in the past, but no students have gone for a semester or, as in Bryan's case, for an entire academic year," said Stauff. "Part of the reason for this is that our Russian language program has been reborn, thanks to Dean Rifkin…now we have enrollments in those classes again, and more students will want to go."
According to Rifkin, in fall 2009, seven students were enrolled in the first-semester Russian non-intensive course. The following semester, the course was cancelled due to low enrollment. However, this past year, 18 students enrolled in first-semester intensive Russian, and 18 students enrolled in second-semester intensive Russian.
Furman's Boren achievement could be the first of many at the College, if students continue to take advantage of the resources that are becoming increasingly available to them with the enhanced internationalize its curriculum.
"Now that we have implemented intensive language courses for Arabic, Chinese, Japanese, and Russian, I'm optimistic that more TCNJ students will be competitive candidates for the Boren Scholarship for study abroad in the Middle East and North Africa, China and Taiwan, Japan, and Russia," said Rifkin.
According to Rifkin, in the last few years, national enrollments in Russian have been increasing as more students see the connection between the study of Russian and their long-term goals and career opportunities. At the College, a new minor in Russian Studies (including language and history, literature, film, or politics) was recently proposed and is currently under review by the College Committee on Academic Programs. If approved, Furman will have that minor too, as he has already fulfilled those requirements.
"Bryan's success is further proof that TCNJ students are highly competitive in national scholarship competitions for study abroad, including the Gilman, CLS critical language scholarships, and the Fulbright," said Stauff. "We look forward to Bryan's experiences in the coming year and cannot wait for him to share those experiences with our students on campus. He is an inspiring young man who will serve as a great role model for TCNJ students as he progresses with his studies and his career."
You can learn more about the Boren scholarship at http://www.borenawards.org/.