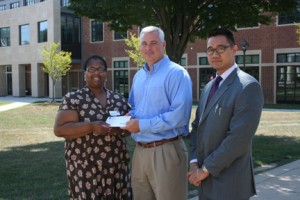 EWING, NJ… The Wells Fargo foundation recently presented a $20,000 check to the Bonner Community Scholars program at The College of New Jersey. The check was handed to Matthew Golden, vice president for College Relations and Advancement, in a small public ceremony on Wednesday, August 3.
According to Golden, who wrote the grant proposal, the donation will likely go toward two full scholarships or four half scholarships for Bonner students.
"The Wells Fargo foundation makes donations to different non-profit organizations in the area…and TCNJ services so many foundations in the area. Also, [the] school has been a big partner in the transition to Wells Fargo," said Adrian Papa, who manages Wells Fargo in the Mercer County north district.
He added that the Bonner Center's actions stand out in the community, specifically due to the consistency of its volunteers' service commitments, as well as the quality of the services offered and diligence with which the Bonner Center tracks the progress of its projects.
According to Papa, who represented the bank at the event, the amount was the bank's first donation as Wells Fargo, although it had given many donations under other names.
"This program is uniquely aligned with Wells Fargo's philanthropic priorities of community
development and education," said Golden. "[The Bonner program] used to be a straight manual labor service program… Now they form these teams of students that work with nonprofits and form a service plan for the year. They engage in grant writing, integrate service into the coursework, and financial accounting. It's not just getting service."
Examples include the Hunger Team, the Developmental Disabilities Team, the Education Team, the Environmental Team, the Housing Team, and the Homelessness Team. Bonner teams work with non-profit partner organizations, such as Trenton Area Soup Kitchen, Visitation Home, Trenton Central High School, Isles, Rescue Mission, Habitat for Humanity, and others. Bonner Scholars provide a broad array of services that include financial literacy education, tutoring, housing renovation, grant writing, faculty-directed research projects, marketing, project management, and other critical needs, explained Golden.
Each Bonner Scholar performs a minimum of 300 community service hours, and is given responsibility for the planning and execution of a meaningful community-service program that inspires participants and meets the needs of a non-profit partner organization. In return, Bonner students receive an annual scholarship that can cover from 50 to 100 percent of their tuition bill.
Golden said that while the Bonner Center's quality work was "not a tough sell" to community donors, he hoped that the relationship with Wells Fargo would continue and lead to future donations.
"It's a tremendous honor," said Golden.
Founded in 2004, The Bonner Center for Civic and Community Engagement provides scholarship support for student leaders who mobilize TCNJ's entire campus to serve the Trenton-area community. This four-year student and community development program provides qualifying students with opportunities to enhance their own skills while promoting positive change and social justice. In addition to executing their own service hours, Bonner Scholars motivate thousands of TCNJ students to perform approximately 25,000 meaningful and well-planned service hours each academic year. Because of this, the Bonner program at TCNJ has been honored by The Corporation for National and Community Service's Presidential Honor Roll, and has a reputation of being one of the most successful "domestic peace corps" programs in the country.
You can learn more about the Bonner Community Scholars program at http://bonner.pages.tcnj.edu/bonner-community-scholars/.