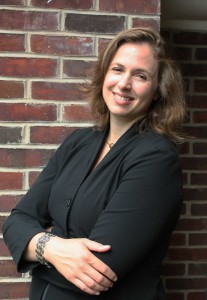 EWING, NJ … TCNJ music professor Teresa Nakra's doctoral research project, the conductor's jacket, has been included in the MIT 150 Exhibition.
"I was amazed to see that a staff member at MIT nominated my work, and then see it receive the same number of votes as a component of the Apollo Lunar Lander module," Nakra said. "The whole experience was incredibly thrilling!"
The MIT 150 Exhibition celebrates the sesquicentennial of MIT's founding and features 150 objects created by members of the MIT community, including a model for a stair-climbing wheelchair and the world's first pocket-sized scientific calculator.
The conductor's jacket features sensors that monitor a conductor's movements, gestures, breathing and heart rate to analyze exactly what conducting is. Nakra said her goal was to "try to make sense of what signals conductors use in the course of their musical work." Nakra built six conductor's jackets in the course of her research; three professional and three student conductors wore them.
Keith Lockhart, conductor of the Boston Pops Orchestra, wore the jacket that is in the museum during the 1998 Tech Night at the Pops concert, an MIT reunion event. A screen above the orchestra showed an artistic interpretation of Lockhart's performance using the data collected by the conductor's jacket.
Deborah Douglas, Curator of Science and Technology at the MIT Museum, said, "We're thrilled to have this object because it's a very unusual and provocative research project. Having it in our collection allows us to tell important stories about student research and the unique qualities of the MIT Media Laboratory, as well as illustrate one of the most beloved traditions of the MIT alumni, Tech Night at the Pops."
For more information about the MIT 150 Exhibition, visit http://museum.mit.edu/150/.
###