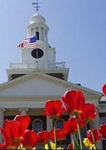 EWING, NJ … Dr. R. Barbara Gitenstein, president of The College of New Jersey, welcomed students, faculty and staff back for the 2011-2012 academic year with the announcement of two major gifts to the College.
The first gift, $500,000 from the Corella and Bertram F. Bonner Foundation (Princeton), will enable TCNJ to establish a permanent endowment for its Bonner Leader Program. The second is a $1 million bequest from an anonymous donor, of which the College was recently notified.
These gifts add to TCNJ's endowment, reported at $24 million as of June 30, 2011.
TCNJ is one of 50 schools nationwide participating in the Bonner Leaders Program, whose mission is to transform the lives of students and the life of their campuses, their local communities, and the world through service and leadership.
Because college students in the Bonner Leaders Program are serving their communities rather than working paying jobs, this special endowment will help to support service-based scholarships for 40 TCNJ Bonner Leaders. These students will work on issues such as improving educational opportunities and fighting hunger through community programs that focus on literacy issues, mentoring, and nutrition/anti-hunger initiatives, among others.
"TCNJ has a remarkably talented pool of students, faculty, staff and community partner organizations who have joined forces around a common vision: that we can teach and learn from each other while improving the quality of life in the city and region," said Patrick Donohue, director of TCNJ's Bonner Center for Civic and Community Engagement. "This investment by the Foundation recognizes their past efforts and inspires us to do even more together."
"We are extraordinarily appreciative of the gifts that President Gitenstein announced today," said Matthew Golden, vice president for College Advancement and executive director of TCNJ Foundation. "Philanthropy of this type strengthens and allows for enhancement of vital programs; it also brings new initiatives to life. The generous support provided by the Corella and Bertram F. Bonner Foundation will help us grow the impact of our community scholars program, which is a critical resource for local non-profits and the people they serve. The Bonner Community Scholars program is also one of the truly dynamic learning experiences we offer at TCNJ. The anonymous gift President Gitenstein announced will benefit TCNJ students and faculty for generations to come."