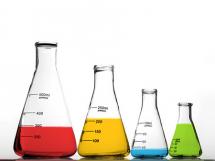 EWING, NJ … The College of New Jersey, in conjunction with Rider University and the American Chemical Society, is sponsoring a Chemistry Career Café Series, which aims to introduce students from high school to graduate school to the opportunities available for chemists in central New Jersey and Philadelphia.
The series will consist of four themed luncheons focusing on chemistry-related careers that are not quite as well known as chemistry jobs in the medical and pharmaceutical industries.
"Our expectations for the program are to show students that chemistry is a diverse field and that you can find a job in many different sectors beyond academia and industry," said Abby O'Connor, assistant professor of chemistry at TCNJ. "This program will provide the students with valuable contacts with local chemists in the area and this could lead to a potential job or internship experience."
The first luncheon, titled "Chemistry of Food & Beverage," will take place on Saturday, October 15 from 10 a.m. to 1 p.m. in room 316/317 of the Science & Technology Center at Rider University. The panelists will include Phoebe Qi, a research chemist at the United States Department of Agriculture; Joanne Ferrara, the senior director of Research, Quality and Innovation at ConAgra Foods; and Kate Buttolph, a laboratory technician at Ungerer & Company, which designs new flavor and fragrance formulations for corporate clients.
The second event, "Chemistry of Art & Literature," will be on Saturday, October 29 from 9:30 a.m. to 12:30 p.m. in the lounge of the Business Building at The College of New Jersey (lower level of the Business Building). The speakers will include John Challice, the vice president and publisher of the Higher Education Division of Oxford University Press; Kerry Grens, a health and science reporter based in Philadelphia; and Bethany Halford, the senior editor of Chemical & Engineering News, a weekly newsmagazine published by the American Chemical Society.
The final two luncheons, "Chemistry in the Government" and "Chemistry in the Environment," will be held in spring 2012.
Space is limited to 60 students for each event and each is free with pre-registration. Students must register by October 9 for the first event and by October 23 for the second. For more information and to register, visit http://www.rider.edu/academics/colleges-schools/claes/science-programs/chemistry-biochem-physics/news-events/career-cafes
###