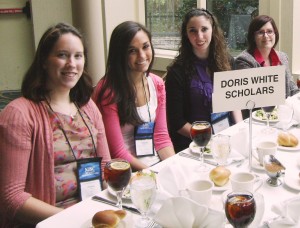 EWING, NJ… Science, math, and technology teachers are in demand, and three College education majors were recently recognized for their eagerness to supply with a scholarship awarded by the New Jersey Science Teachers Association.
The NJSTA awarded the Doris White Memorial Scholarship to Taylor Dickerson, Catherine Meyer, and Shannon Robertson at the Convention, held on Oct. 11 and 12 at the Garden State Convention Center in Somerset.
Each scholarship recipient is double majoring in elementary education and math, science, and technology. Juniors Dickerson and Meyer are specializing in mathematics while Robertson, a senior, has a technology specialization.
"They are all high achievers and excellent teachers already," said Assistant Professor of Elementary and Early Childhood Education Linda Burroughs, who has taught each of the awardees. "Since I teach science methods, I am delighted and grateful to find support and recognition for students who stand out as future teachers."
The students received one-year memberships to the NJSTA, paid admittance to the New Jersey Science Teachers Convention and a meal ticket at the awards ceremony.
The scholarship honors Dr. Doris Gnauck White, an exceptional New Jersey science teacher and biomedical and biophysics researcher who devoted her life to scientific research and the professional development of teachers before her death in 2001.
"The award is given jointly with the NJ science and math supervisors association, so it is a nice recognition," said Burroughs. "We have actually had five years of awardees, but this year was certainly special in that it recognized three applicants from (the College).  In the past, only one was recognized (each year).  I am pleased that three of the six past recipients were my students."
According to the NJSTA website, to be eligible to apply, each student had to be enrolled in a K – 12 Teacher Preparation Program at a New Jersey institution of higher education.  Winners were chosen by the NJSTA Awards and Presentations Committee and approved by the Executive Board in recognition of their exceptional recommendations and applications, which included the writing of an original science lesson plan. The Committee is composed of active and retired science teachers, all members of the NJ Science Teachers Association.
According to Burroughs, the NJST convention was notable not just for the awards ceremony but also for the networking opportunity it represented for the students.
"Students have universally been surprised and thrilled with the time spent at the convention, and the professional teachers have embraced them and helped them throughout their day, treating them just like 'members of the club'," said Burroughs. "…Their comments on the effectiveness of the convention have always been positive."