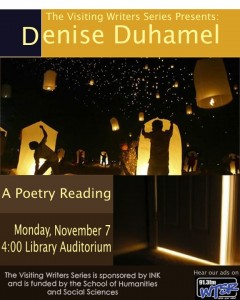 EWING, NJ…The College of New Jersey's Visiting Writers Series will continue on Monday, November 7 at 4 p.m. with poet Denise Duhamel in the Library Auditorium, located in the lower level of TCNJ Library. The event is funded by the School of Humanities and Social Sciences and sponsored by INK.
Duhamel is a recipient of a National Endowment for the Arts Fellowship and has been anthologized in volumes of The Best American Poetry. Duhamel is the author of 10 poetry collections, including Queen for a Day, which contains selections from her bestselling book Kinky. Duhamel's most recent publication Ka-Ching! is a book of poems that explores America's obsession with money.
Entertainment Weekly says "Duhamel is a wily technician, a touching humanist, a poet deserving stardom" and The Bloomsbury Review calls Ka-Ching! "the wildest, most honest book of poetry written in a long time."
Queen for a Day and Ka-Ching! are available to purchase in the College's bookstore. Refreshments will be served after the reading.
View the event on Facebook.