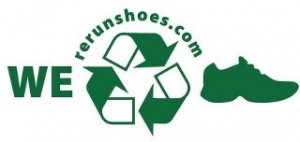 EWING, NJ…To usher in this holiday season, take a break from running around campus, and take a look at your shoes.
College students in the giving spirit don't need to wait until December — the College's Health and Exercise Science Club is holding a campus-wide shoe drive for underprivileged consumers in Africa from Nov. 5―29, and giving is as easy as opening a closet.
Students can drop off their gently used athletic shoes, cleats, casual or dress shoes in designated boxes to be set up in six locations on campus: Packer Hall, Loser Hall, Student Center, Social Science Building, Forcina Hall and Science Complex building in the Math and Physics Building. Men's and women's shoes are both accepted, but flip-flops and boots are not. The shoes also cannot have holes or worn-down soles, according to Kasey Baldwin, president of the Health and Exercise Science Club.
According to Baldwin, the shoes will be given to Rerun Shoes, a charity organization that will bring the shoes to West and Central African consumers. Baldwin said that learned about the organization, which she said seeks to reduce North American waste and give old shoes a "new home (on) someone else's feet," on its Facebook page.
"This pertains to our club because all of the Exercise Science Department students have old athletic or cleats we have in our closets that we do not use. I would like to help others receive my old shoes to put them in good use," said Baldwin.
According to the Rerun Shoes website, since its founding in 2009, the organization has aimed each year to extend the life of the two billion plus pairs of shoes imported into the United States. The environmentally and socially concerned organization also promotes West African microbusiness, supporting entrepreneurs who recondition, clean, and prepare the shoes for distribution.
The Health and Exercise Science club has a goal of its own for the College's giving.
"I was hoping to collect at least 1,000 pairs of shoes, if not more. I feel that this campus is very involved and caring about other people. That is one of the reasons why I fell in love with this school. People are willing to give their services," Baldwin said. "I hope that this can inspire others to help out others locally or nationally."
Extending the life of your shoes does more than reduce waste and promote microbusiness — it increases safe work and play abilities for the people who slip them on and lace them up.
"Hopefully some child or adult can run around in my gently worn shoes. I can bring an old pair of shoes to new life," said Baldwin.
Read more about Rerun Shoes on its website: www.rerunshoes.com.