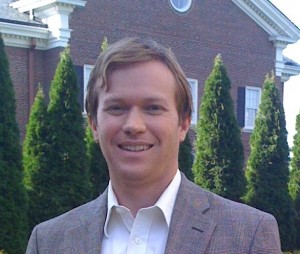 EWING, NJ … Assistant professor of history Robert McGreevey has been named Teacher of the Year for New Jersey Studies by the New Jersey Studies Academic Alliance (NJSAA). The award recognizes innovation and creativity in teaching New Jersey studies.
"I believe this award is a recognition of the power of community engaged learning at the College," McGreevey said. The NJSAA considered McGreevey for this award upon seeing the original research of students in his "Twentieth Century Trenton" seminar last semester. "Though community engaged learning often requires a significant amount of time to coordinate and develop, experiences such as this one show how transformative it can be for students," he continued.
McGreevey specializes in the political, social and cultural history of the United States from 1877 to 1945 and teaches courses on the Gilded Age and Progressive Era, America in the 20th century, and the history of the U.S. in the world.
McGreevey will receive his award at the New Jersey Historical Commission's annual conference at Princeton University on November 19.
For more information about the NJSAA and the Teacher of the Year award, visit: http://sites.google.com/site/njstudiesacademicalliance/Home/njsaa-teaching-award