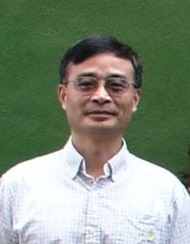 EWING, NJ… Mastery of the English language is difficult for anyone. However, for the 279,366 language minority students that the N.J. Department of Education reports are now enrolled in the state's public K-12 schools, just gaining proficiency in English is a struggle.
The College of New Jersey has long-pledged to address the need of New Jersey English-language learners — and the U.S. government is recognizing its efforts with a $2 million grant.
TESL Program Coordinator and Associate Professor in the Department of Special Education, Language and Literacy, Dr. Yiqiang Wu applied for "The National Professional Development Grant" and has been awarded almost $2 million by the U.S. Department of Education. Ranking 15th out of the 42 grant winners announced by the U.S. Department of Education in September, the College will receive approximately $400,000 annually for the next 5 years, said TESL Grant Program Coordinator Tim Hall.
Dr. Wu has held a longstanding commitment to promoting the awareness of English as a Second Language issues in public education, ensuring quality development of ESL and teaching professionals, and strengthening the quality of our program here at TCNJ. This is the second grant that he has been awarded in the past few years, noted Hall.
TESL's new project, "Creating a Team of Highly Qualified Professionals for English Language Learners" (CTHQP), which will offer certification programs and workshops to content-area Pre-12 teachers, administrators, counselors, and school support staff in the Professional Development School Network and beyond, is set to be the beneficiary of this grant starting in spring 2012, said Hall.
"Students' achievement and success in the science, technology, engineering, and mathematics fields is critical to the future of our nation, and English-language students, like all students, deserve high-quality STEM instruction," Rosalinda B. Barrera, the department's assistant deputy secretary for the office of English language acquisition, said to the Education Week magazine in a Sept. 13 statement about the "promising programs" of grant awardees.
According to Hall, graduate-level courses, state certification, and enrichment courses for in-service teachers, paraprofessionals, administrators, counselor and psychologists are all professional development opportunities that the grant will support.
"The project is distinct in that it aims to develop ELL (English-Language Learning) support both in and outside the classroom," said Hall. "It hopes to achieve maximum impact in the teaching community by using grant funds to subsidize enrollment costs, and to teach many of its courses on location in the school district, thus reducing the logistical barriers of getting participants from disparate districts to a far-away (College) campus."
Some CTHQP course offerings will include graduate courses in English language structure, language acquisition theories, sociolinguistics, curriculum and methods for ESL learners, language and literacy for ESL learners, he added. The program will also offer summer workshops led by the leading professionals and researchers in the field of TESOL (Teaching English to Speakers of Other Languages).
Hall said the grant will also support a three-day Summer ESL Academy for each year of the project, at which 150 ESL teachers, Pre-K-12 content teachers, administrators and counselors, current TESL students will participate.
"The project …would … (ensure) increased enrollment, more reliable attendance, and more relevant content per the professional needs of the educational staff in catering to their respective student populations," said Dr. Wu in his proposal.
A second distinguishing characteristic of the project will be the way each professional development program will be tailored specifically to each school's language-learning needs, Dr. Wu described.
"The State of New Jersey continues to grow as a home for thousands of immigrants from around the world… According to data from the 2006 American Community Survey (ACS) of the U.S. Census Bureau, only two states, New York and California, have a greater percentage of foreign-born residents than New Jersey," said Dr. Wu. "These population statistics must be met with an educational body appropriately equipped to meet their linguistic, social, and academic needs."
To help English learners boost their proficiency, the College knows it must boost the proficiency of TESL educators, said Hall.
"As a result of this grant, we would hope to see as many teachers and educational staff proficient in catering to the linguistic and educational needs of language learners in the state," said Hall.
To learn more, please access the TESL Professional Development webpage at teslprofdev.pages.tcnj.edu.