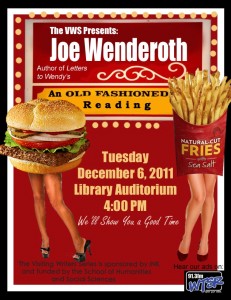 EWING, NJ…The College of New Jersey's Visiting Writers Series will continue on Tuesday, December 6th at 4 p.m. with author Joe Wenderoth in the Library Auditorium, located in the lower level of TCNJ's library.
Philadelphia Weekly calls Wenderoth's Letters to Wendy's "a work of genius." The Boston Review says it is "at once a love story, cultural critique, and commentary on literary theory . . . to be produced for and by Generation X." Former TCNJ visiting writer Denise Duhamel describes the narrator of Letters to Wendy's as a "cheeseburger-chomping voyeuristic lowlife who visits Wendy's each day, alone." During each visit, the irreverent narrator writes his thoughts on Wendy's comment cards creating hilarious sketches of the people that frequent the fast food chain.
Wenderoth's book of essays The Holy Spirit of Life: Essays Written for John Ashcroft's Secret Self (2005) boldly satirizes American culture, politics, and religions. He has been anthologized in several collections, including The Best American Poetry series.
Letters to Wendy's and The Holy Spirit of Life are available to purchase in the TCNJ bookstore and will be available after the reading. Refreshments will also be served.
View the event on Facebook.
The event is funded by the School of Humanities and Social Sciences and sponsored by INK.