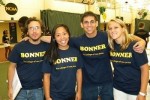 The weather may be unseasonably mild, but the flurry of service activities on campus and in the community is only increasing in intensity as the semester closes.
Students, faculty and staff headed into the Thanksgiving holiday after completing an impressive wave of curricular community-engaged learning activities, coordinated by the College's Bonner Center for Civic and Community Engagement, as part of the College's First Year Community Engaged Learning (CEL) graduation requirement and CEL II initiatives.
Students from four different First Seminar Program (FSP) courses, taught by Professors Mazur, Maki, Mi and Hornberger, applied what they are learning about a range of topics—from technology, history, rock and roll and Amish Culture—and delivered workshops to more than 150 Trenton middle school students who participated in the Center's Fourth Annual Youth Development Institute;
In Lincoln Konkle's Springsteen as Poet course, students spent the weekend in Asbury Park, using music and lyrics as a means to help city youth from Greg Grant's Academic Sports Academy learn more about poetry and literature, in addition to visiting key Bruce Springsteen sites such as the Stone Pony and the famed boardwalk;
Students from Lorna Johnson's Cinema and the City course and youth from two Bonner partner sites—Trenton Central High School and Isles Youthbuild—watched a popular film together, which became the springboard for completing three academic skill-building activities as well as informative discussions about how urban areas are portrayed via the media;
God, Morality and Free Will, taught by Rick Kamber, had students participating in Patrick Donohue's Socrates Café group at the Albert C. Wagner Correctional Facility for the second time, as part of an ongoing effort to enlighten and encourage offenders to read, write, reflect and continue their education before returning to society;
Bonner Scholar students from Brian Reilly's Community Mapping class delivered a presentation on how they used new smart phone technology to learn about an historic neighborhood in Trenton while providing information for a local Community Development Corporation (Shiloh Baptist) make decisions;
Another team of Bonner Scholars led an on-campus presentation on sustainability, focusing on how small behavioral changes could go a long way to create a greener world both on and off campus. These Scholars are part of Bonner's Sustainable Jersey/PC3 (President's Climate Commitment Committee) team;
Students from Margaret Leigey's course Violence in America participated in panel discussion with local law enforcement officials and non-profit leaders, capping off a few weeks of writing and reflecting with juvenile offenders who are enrolled in a local life-skills program, and gathering information to help a local crime prevention group make policy recommendations; and
Members of the Women and Families in Modern China class held their third annual Community of Lights engagement event, a collaborative effort with Womanspace to raise awareness about domestic violence. The students are also working on a project to benefit the agency's hotline operation.
By the end of the semester, nearly 1,000 TCNJ students will participate in both curricular and co-curricular community engaged learning activities and projects, giving them a chance to learn while addressing an unmet local need.  For more information on TCNJ's Bonner Center for Civic and Community Engagement, visit http://bonner.pages.tcnj.edu/