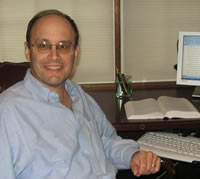 EWING, NJ … Kevin Michels, associate professor of management, marketing and interdisciplinary business, was recently elected to the American Law Institute (ALI). According to its website, the ALI is "the leading independent organization in the United States producing scholarly work to clarify, modernize, and otherwise improve the law."
"Our state and federal courts have relied on the American Law Institute's treatises for generations," Michels said. "Election to the ALI is not only an honor; it is an invitation to join their members—scholars, judges and lawyers—on projects that will help shape the law for years to come. What a privilege."
Michels was also given the Bright Idea Award for his paper "Internal Corporate Investigations and the Truth." Only 10 award recipients were selected from over 109 research publications.
According to Michels, his article explores the tensions and potential conflicts of interest faced by attorneys who are retained by a company to investigate allegations that the company or its employees have engaged in wrongdoing. The paper proposes a set of legal and ethical standards to guide such investigations and limit the influence of the hiring company.
The Bright Idea Award recognizes outstanding business research articles published by faculty at New Jersey colleges. The award is sponsored by the Stillman School of Business at Seton Hall and the New Jersey Policy Research Organization (NJPRO). Michels and the other recipients were honored at a statewide awards ceremony in October.
Michels teaches courses and conducts research on business law and ethics.