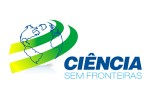 EWING, NJ … This year, a student from Brazil has arrived at The College of New Jersey to begin studying Civil Engineering and Economics.
Carolina Resende is among the approximately 650 Brazilian undergraduate students arriving in the United States to study at U.S. campuses with funding from the Brazilian Government's "Science Without Borders Program." As a part of the program, Carolina will study for two at TCNJ, and will take part in a summer internship.
The Science Without Borders Program, announced in August 2011, provides scholarships to undergraduate students from Brazil for one year of study at colleges and universities in the United States. Scholarships are being given primarily to students in the Science, Technology, Engineering and Mathematics (STEM) fields. Students in the program will return to Brazil to complete their degrees.
Kevin Fay, TCNJ assistant director of admissions, said, "The College is proud to host one of 'the best students from Brazil' in this first wave of only 650 Brazilian college students pursuing a year of study in the STEM fields at colleges and universities throughout the U.S. A successful collaboration between Admissions, the Center for Global Engagement and the Schools of Science and Engineering contributed to Carolina's eventual arrival last month.  While Carolina takes advantage of this unique opportunity to experience the quality of TCNJ's academic programs, we recognize that domestic students here at the College can also benefit from interactions with an international student in a living/learning environment.  Given the early signs of Carolina's acclimation to the campus community, we are hopeful that more Brazilian students will be matched with the College in the fall."
This undergraduate scholarship program, administered by the Institute of International Education, is part of the Brazilian government's larger initiative to grant 100,000 scholarships for the best students from Brazil to study abroad at the world's best universities. The program is sponsored by the scholarship foundation of Brazil's Ministry of Education, Coordenação de Aperfeiçoamento de Pessoal de Nível Superior (CAPES). IIE has been working closely with CAPES and with colleges and universities across the United States, including the College, to place the students in US study programs that best meet their academic needs.
"We are pleased to be partnering with the Government of Brazil and with the U.S. host campuses to implement this important program," said IIE's President and CEO Allan E. Goodman. "At a time when Brazil's economy is expanding rapidly, and Brazil and the United States are forging unprecedented ties in trade, energy and scientific development, we look to higher education as another area where our two countries should seek much stronger cooperation."
###