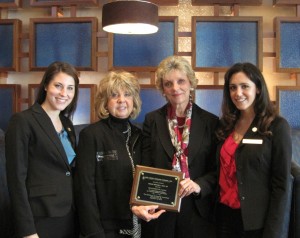 EWING, NJ… The leaders in the School of Nursing are getting statewide recognition.
New Jersey Nursing Students Inc. has named Marcia Blicharz, Dean of the School of Nursing, Health and Exercise Science, and Susan Mitchell, Chair of the Department of Nursing, "2012 Dean and Director of the Year."
As 2012 NJNS award winners, the pair stands out among nominees in 51 schools, including diploma and associate degree programs, across the state of New Jersey. It is also the first year that a TCNJ administrator has been recognized in this way by NJNS, said Mitchell.
"Both leaders were recognized and nominated together for outstanding excellence as nursing educators and leaders by a student from The College of New Jersey," said the 2011-2012 NJNS' Community Health Director Carolyn Isabelle Bogdon in a congratulatory e-mail.
Blicharz and Mitchell were ceremoniously honored as the guests of honor at the 2012 NJNS Convention's New Jersey Nursing Students (NJNS) Inc. Dean/Directors/Faculty Luncheon on Thursday, Feb. 16, 2012 from 12:30-2:00 pm at Bally's hotel and casino in Atlantic City.
In the letter that the NJNS sent to Blicharz and Mitchell to alert them of their award, an excerpt from the application of nominating nursing student Susan Moraca, who was taught Pharmacology by Blicharz and Wellness Promotion by Mitchell, is shared.
 "They support us 100% in all of our activities, assist us in being creative in managing our schedules, help keep us grounded in the midst of the chaos that is nursing school, and (inject) the enthusiasm that we all need to keep going when challenges arise," Moraca wrote.
Moraca, a junior, added that Blicharz and Mitchell are not just superior educators and leaders, but also the nursing students' "confidants, cheerleaders, business managers, liaisons, inspirations, and above all, role models."
According to Moraca, who was elected President of the New Jersey State Student Nurses Association (NJNS) at the Feb. 16 convention, in addition to being her professors, Blicharz and Mitchell were also her academic mentors when she came to the College as a transfer student.
"As I wrote in my nomination essay, it is the consensus among all nursing students that these two individuals have touched our lives in key ways … I am merely the messenger of the amazing impact (they) have had on hundreds of students.  From the bottom of my heart, when I learned they had won I was ecstatic, as I'm sure all of us students were," she said in an email. "This award is only a small way to give back to these wonderful individuals who have inspired us all so greatly."
In response to the award, both Blicharz and Mitchell expressed feelings of honor and gratefulness to the nursing community.
"I am very proud of our nursing students and nursing alumni and am truly honored to be recognized by our students," said Blicharz in an email. "In fact, being recognized by students is the highest honor I can aspire to, since educating students and developing tomorrow's leaders is what it's all about."
"I feel very honored and humbled by the award… It was truly amazing," said Mitchell, who added that after being informed of the honor, she and Blicharz received letters of congratulations from President Barbara R. Gitenstein. "… I've had a long-term relationship with the faculty and the students, so it's been a very enjoyable year."
According to Mitchell, she was originally nominated as "faculty of the year" but the "unique" circumstances of this year led to a change in her and Blicharz's positions.
Because Susan Bakewell-Sachs, the former dean of the School of Nursing, Health and Exercise Science, was moved up to the position of interim provost after the former provost left the College, Blicharz, the former chair of the department, became interim dean in July 2011.
Mitchell is acting as interim chair, filling Blicharz's previous position. In addition to her work as chair, she said she is still fulfilling her other duties as nursing professor, advisor to the campus' chapter of the Foundation for the International Medical Relief of Children (FIMRC), and counselor of the campus' Delta Nu chapter of Sigma Theta Tau International (STTI), the international nursing honor society.
The two will return to their original positions in July 2012, when a new provost is chosen, said Blicharz.
"Professor Mitchell and I have been colleagues for years and are very committed to students and nursing education," said Blicharz, who added that, as dean, she has been working to "continuously develop and support the School of Nursing Health and Exercise Science and to ensure that the students get an excellent education."
In addition to their long history as colleagues, Blicharz and Mitchell's success as a team during this "unique year" has another component, said Mitchell.
"We've worked as a team for over 30 years and we're friends," she said.