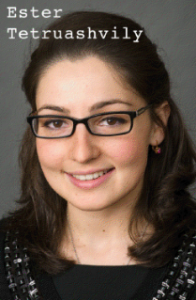 EWING, NJ… Esther Tetruashvily '11 ― who is currently a 2011-12 Fulbright scholar in her native Azerbaijan, from which her family was forced to flee during the Soviet Union's collapse ― embodies the "New American" ideal, according to American philanthropists and Hungarian immigrants Paul and Daisy Soros.
She recently received a "Paul and Daisy Soros Fellowship for New Americans," in the amount of up to $45,000 per year — an amount that will aid her in paying for her graduate studies in Regional Studies: Russia, Eastern Europe, and Central Asia next year at Harvard University, which will be supplementing the remainder of her tuition and fees.
According to the organization's website, fellowships are awarded to individuals who are themselves naturalized or are the children of at least one naturalized parent. Eligible applicants must also be at an early stage in their graduate studies and both exhibit career ambition and American values including "creativity, accomplishment, and commitment to the values expressed in the US Constitution and the Bill of Rights."
Last month, the prestigious 15-year-old fellowship program informed the recent graduate of her selection — mere weeks after she was accepted into Harvard University, her top-choice school.
According to the fellowship program's website, 30 fellowship recipients are selected each year from roughly 1,000 applicants, of whom 77 are interviewed as finalists after their application materials, recommendations and two essays are reviewed.
Soros winners, chosen based on merit, receive up to $90,000 to aid them with two years of graduate study at an American university. Past winners have included Rhodes and Marshall Scholars and undergraduates from top-ranked schools including the Ivies, Stanford, MIT, and Juilliard.
According to Tetruashvily, her TCNJ professors had encouraged her to apply for the fellowship during the fall of her senior year, before she had been accepted into the Fulbright program, where she is currently teaching English at the Presidential Academy of Public Administration and interning for the International Organization for Migration (IOM).
"(Nancy Freudanthal, assistant provost of academic affairs,) brought the fellowship to my attention. I think I had heard of it before but her encouragement, and the encouragement of (Professor of History Jo-Ann Gross) and (Dean of the School of Humanities and Social Sciences) Benjamin Rifkin really pushed me to apply," said Tetruashvily in an email.
In Esther's first "New American" essay, she discussed the hardships her parents experienced fleeing Azerbaijan soon after she was born ― an experience that led them from Azerbaijan to Austria, then Italy, and finally, the United States.
"Being Jewish, my family was caught in the crossfire between Christian Armenians and Muslim Azerbaijanis. We were not the enemy, but we were still the 'other.' My mother lost her job as a physician's assistant when her boss could no longer protect her. My father's textile business was vandalized, leaving our family without an income… By the time I was eight months old, my family had received green cards to 'the land of opportunity,' a phrase that, for my parents, was anything but a cliché. Unable to defend their degrees, my parents started from scratch. My mother found work as a housekeeper while studying for her bachelor's degree and my father became a taxi driver and pizza deliveryman, taking courses in computer programming," she wrote.
"Had it not been for chance and a migrant-aiding institution, my fate could have been very similar to the cases that I come across in my work," said Tetruashvily in an email.
She added that after graduate school her ultimate goal is to become a regional specialist for the U.S. government on issues including migration and human trafficking.
"I am interested in working further as a regional expert and project development consultant with such organizations as the IOM, (The United Nations High Commissioner for Refugees), or (the Organization for Security and Co-operation in Europe). Eventually, I would like to become a leading regional specialist on issues of migration and trafficking in Europe and Eurasia with the U.S. State Department," she said.
Tetruashvily double majored in English and international studies with minors in central Eurasian studies and Spanish while at the College and was inducted into both the Phi Kappa Phi and Phi Beta Kappa honor societies last year. Before her Fulbright allowed her to return to the country of her birth, her academic pursuits had already allowed her to travel extensively in the Central Eurasion region.
She traveled to Central Asia in May 2010 on a Maymester Tour directed by professors of history Jo-Ann Gross and Cynthia Paces. Following the tour, Tetruashvily spent a semester studying abroad in Russia, where she completed an internship in Moscow with IOM–Moscow, and volunteered with Fund Tajikistan, a non-profit focused on migration policy in Russia and the former Soviet Republics.
However much she has grown and learned from her travels around Azerbaijan, Tetruashvily said that her Fulbright experience in Azerbaijan itself had been especially meaningful.
"However academic this trip has been, it has also been important in understanding my past and a part of myself as well," she said. "Having been born here, I am often asked about my past, about why I left, how I live in America, will I stay, and that has had an effect on the way I have understood my family's need to leave and the struggles they faced when they did. More importantly, being here, eating the food, seeing people every day that look like my relatives, and walking on streets that my parents walked, seeing my mother's old apartment — it's as if a chapter of my life that was blank has now been filled."