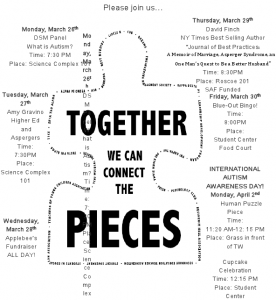 EWING, NJ… The College of New Jersey does not have a single campus group that promotes autism awareness — it has 25.
This year, 25 student organizations ― with the help of speakers including David Finch, New York Times bestselling author of Journal of Best Practices: A Memoir of Marriage, Asperger Syndrome, and One Man's Quest to Be a Better Husband and  the College's Department of Special Education, Language and Literacy ― are collaborating to hold the campus's second  Autism Awareness Week.
The week's programming will begin Monday, March 26, and continue through International Autism Awareness Day on Monday, April 2. It will include talks and activities to educate students and raise funds for research on autism, a complex developmental disorder that 1 to 1.5 million Americans live with, according to The Autism Society, the nation's leading grassroots autism organization.
NBC News has taken notice of the College's efforts and will be attending Finch's talk, which will be held on Thursday, March 29 at 8:30 p.m. in Room 201 of Roscoe West Hall, according to Matthew Golden, associate vice president of the Department of College Relations.
While the week is celebrating its second anniversary at the College, this is actually the third year in a row that the campus has hosted a student-run autism awareness event.
Two years ago, senior special education and psychology double major Alyssa SooHoo, who founded and organized both of the College's Autism Awareness Weeks, created an event called "Celebrating Autism" that offered a campus film screening and a panel on autism.
"Last year, I expanded the event into a week, and this year although still a week, the events have become more extensive, more departments of the school have become involved as well as the media," she said in an email.
SooHoo, who is in the College's five-year special education Master's program and has double minor in deaf studies and communication disorders, said that she who has had an interest in autism ever since she was in middle school in middle school and volunteered at a day camp called ANCHOR (Assisting the Needs of Citizens with Handicaps through Organized Recreation).
"I was placed in the lowest functioning group with individuals with autism, and knew I had found my passion.  Ever since then, I take up every opportunity that's given to me to work with this population," SooHoo said.
Later, as a sophomore and junior in high school, she participated in an advanced scientific research program and studied the effects video modeling on teenagers with autism at the Genesis Special Education School in New York. The results of her study were later   published in the journal of The National Association for the Dually Diagnosed .
Amy Gravino, a college coach for students with Asperger's Syndrome, will also be giving a talk on "Higher Ed and Asperger's" at 7:30 p.m. in Room 101 of the Science Complex, according to a promotional flier on the week's events.
This week also will offer a panel discussing changes to the definition of Autism in the Diagnostic and Statistical Manual that will be held on Monday, March 26 — also in Science Complex Room 101 at 7:30 p.m. — as well as a local Applebee's fundraiser all day on Wednesday, March 28, and "Blue-Out Bingo!" fundraiser in the Brower Student Center on Friday, March 30 at 8:00 p.m.
The week will culminate with the creation of a "Human Puzzle Piece" — a nationally recognized symbol of the autism and the logo of the National Autistic Society (NAS), the UK's leading charity for people with autism — from 11:20 a.m.-12: 15 p.m. on the grass in front of Travers and Wolfe Residence Halls, immediately followed by a cupcake celebration.
According to SooHoo, after students meet and form the shape of a puzzle piece on the lawn, a picture will be taken from above that "will be sent to organizations nationally… to visually show TCNJ's support for autism awareness."
"The puzzle piece is so effective because it tells us something about autism: our children are handicapped by a puzzling condition; this isolates them from normal human contact and therefore they do not 'fit in'," NAS explains on its website.
The event's cosponsors include Best Buddies, a program which partners TCNJ students with other students with intellectual and developmental disabilities, as well as a variety of other Greek and non-Greek organizations including: Alpha Phi Omega, Ambassadors, American Engineering Management Society, Art Student Association, Barkada, Circle K, College Union Board, Council for Exceptional Children (CEC), Kappa Delta Pi, Leadership Development Program, Phi Kappa Tau, Phi Sigma Sigma, PRISM, Residence Hall Association, Psychology Club, Secondary Education Teachers Association (SETA), Student Government, Student New Jersey Education Association, TCNJ Musical Theatre, Teachers of Young Children Association, Theta Phi Alpha, and Zeta Tau Alpha.