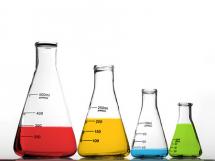 EWING, NJ …The College of New Jersey, in conjunction with the American Chemical Society and Rider University, is hosting a chemistry career café called "Chemistry of Protection & Global Security" on April 21.
The event will be held on Saturday, April 21 from 10 a.m. to 1 p.m. in the basement lounge of the Business Building at The College of New Jersey. The event will explore careers that protect people's rights and health.
"Chemistry of Protection & Global Security" is part of the Chemistry Career Café Series, which began last year with "Chemistry of Food & Beverage" and "Chemistry of Art & Literature."  The series aims to introduce students to the wealth of professional and academic opportunities for chemists available in central New Jersey and Philadelphia. The series focuses on chemistry-related careers that are not as well known as chemistry jobs in the medical and pharmaceutical industries.
"The focus of this café is to introduce students to different jobs that chemists can have in the government and in areas that deal with protecting the citizens of the world as well as the environment," said Abby O'Connor, assistant professor of chemistry at The College of New Jersey. "We hope this café opens the eyes of many students and makes them aware that a chemistry degree is quite versatile and will allow them to pursue a career in any area."
Some speakers will include Robert Billmers, an intellectual property specialist at Azko Nobel Chemicals in New Jersey; George Emmett, senior research scientist at the Chemical Security Analysis Center of the Department of Homeland Security in Maryland; Gretel Raibeck, chemical engineer at the U.S. Armament Research, Development and Engineering Center in New Jersey; and Sean Palmer, chief biochemist for the medical toxicology branch of the U.S. Army Medical Research Institute of Chemical Defense.
The café is free with pre-registration, but space is limited to 60 students. Students must register by April 14. To register, visit: http://www.rider.edu/academics/colleges-schools/claes/science-programs/chemistry-biochem-physics/news-events/career-cafes.