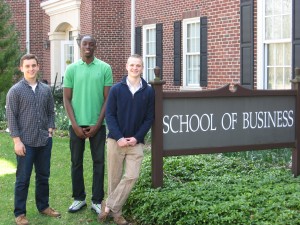 The College's first-ever school-wide "Mayo Business Plan Competition" is over, and three freshmen have won the $12,000 grand prize for their business idea.
Team "Mashup" – economics major Davis Craig, management major Ryan Dolan and biology major Frankie Nwafili – competed alongside two other student teams in the finals on Wednesday, April 4, and ultimately won the favor of a panel of alumni judges with their proposal for an online community where users can create personal online magazines.
According to the members of "Mashup," the team already has a mock site online and, although there are no requirements for the use of the prize money, they will be using all of their winnings to perfect the site and prepare its real-life, official launch this summer.
"We were so honored to be announced as the first place winners. It was an amazing experience. I couldn't stop shaking," said Dolan in an email. "We competed against two amazing groups ('The Elite Club' and 'Flow and Co.')."
Dean of the School of Business William Keep said that he was "impressed by the … passion and creativity" of all contest entrants, as well as by the finalists' "poise under pressure."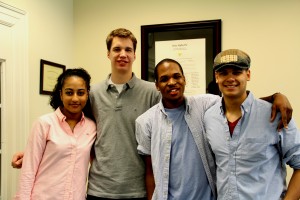 The competitions' second- and third-place finishers, respectively, were "The Elite Club" with Albert Matlock, Anthony Grullon, Dan Bucher and Laura Mendez and "Flow & Co.," helmed by Frank Piazza, Mike Arnone and Pat Chirchirillo. These teams won $6,000 and $2,000 respectively.
According to Keep, all prizes were made possible by generous donations from Professor of Finance & International Business Herbert B. Mayo, who said that he established the competition based on the advice of former student Thomas Bresnahan '11, and alum Eric Szabo '97, who offered to match Mayo's $10,000 contribution and served as a competition judge.
Additionally, three other teams' business plans advanced them to the semi-finals: "College Connect" – Brandon Knight, Richard Scafe, and Robert Cardoso; "Swift Support" – Christopher Matta, Mihir Patel, and Michael Ladny; and "TechnoVation, Inc." – Ryan Belby, Rob Banas and Paul Triantafyllou.
The rigorous competition – which began with a declaration of interest on Dec. 1 – required all entrants to submit an initial business plan outline (including a statement of purpose, the detailed specifics of the business, and an exhaustive financial data plan) of up to 20 pages and, for semi-finalists and finalists, 20- to 30-minute presentations.
The students' class years and majors varied broadly – from biology to electrical engineering – and business ideas ranged from plans based on hats to community service, said Keep.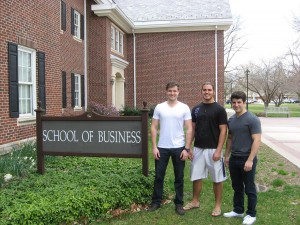 The competition was initiated with the goal of increasing "student appreciation for the challenges associated with developing a viable business offering (product or service) while, through an iterative process, recognizing those students best able to articulate a plan that addresses these challenges," according to the competition's webpage.
In the case of Mashup, Dolan said that the team spent its four months "working on the concept, programming a mock site, testing different functions and technologies, as well as surveying the desires of our potential market" and had even "launched and operated a full blog to test users' feedback." He said that the team currently is also in the process of developing several different applications for merchandising companies, musicians, and non-profits in addition to its platform.
"It's pretty common at this point for the three of us to be working until 4 or 5 AM and then getting up again at 8 AM to get to class on time," he said.
According to Keep, the competition was proposed to him by professor of business Herbert Mayo, who said that he wanted the competition open to all TCNJ students – not just business majors – and he "agreed completely."
"The desire to someday start or own a business does not exist just within some business students but in many students," he said in an email. "We need to think of student interests broadly. Just because a student has a passion for History, for example, does not mean that same student would not be interested in creating or building a business."
"As a biology major I never fathomed how much work and passion that it would take to start a business. If I wasn't completely devoted to the project, I would not be here today. It really requires a lot from us all," said "Mashup" team member Nwifali.
According to Keep, who organized but did not judge the competition, the School of Business hopes to attract more non-business majors in future years of the competition and keep offering the same high-stakes prize money amounts to generate high levels of interest and excitement.
"Mashup" member Craig said that repeating the competition is a "must."
"The competition not only offers a valuable course in entrepreneurship but also allows students to chase their dreams and if they want it bad enough, give themselves the opportunity to turn their dreams into reality.  I am so happy on my decision to come to The College of New Jersey and it is because of opportunities offered like this," he said.