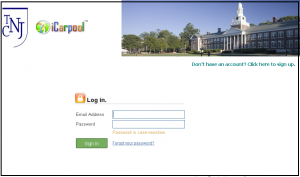 EWING, NJ…  The new TCNJ-iCarpool website (tcnj.icarpool.com) ―  an interactive platform for students, faculty and staff to organize carpools in the local community — is up and running, and the campus community is being encouraged to give it a test drive.
In an effort to reduce TCNJ's greenhouse gas emissions, officials from the College's Presidential Climate Commitment Committee (PCCC) hope students will use the new site, which is a branch of the online social-networking company iCarpool, to find students with similar commutes and carpool with them to school.
"One of the biggest opportunities to lessen our climate impact is to reduce the single occupancy vehicle trips to campus from students, faculty and staff," said PCCC Co-Chair and Vice President for Facilities Management, Construction and Campus Safety Curt Heuring in an email. "If the iCarpool software trial is successful, it promotes community by bringing people together who otherwise might not meet, it can result in money saving for those who are able to share rides with others, it can reduce our long term capital costs as we may need less parking facilities on campus."
The PCCC was created at the College in spring 2007 following College President R. Barbara Gitenstein's signing of the "American College & University Presidents Climate Commitment" (ACUPCC) — a national pact that, to date, has been supported by the leaders of 674 educational institutions across the country.
The PCCC, often called the "PC3," began as an eight-member organization that collaborates with faculty and students on environmental initiatives, according to its website.
Ever since its inception, the "PC3 has met regularly … to plan, execute, monitor and report on the College's sustainability efforts," according to Heuring, who is co-chairs the group with Professor of Civil Engineering Michael Horst.
Because the ultimate goal of the ACUPC pact is to encourage campuses to develop a comprehensive plan for climate neutrality, several PC3 sub-committees have been created to implement actions to reduce greenhouse gases.
Commuting accounts for about 20 percent of TCNJ's total greenhouse emissions, according to Brian Potter, PC3 transportation sub-committee member and professor of political science, who proposed bringing "iCarpool" to TCNJ after first hearing about the company in late August 2011 and learning that they would offer the College a free trial period.
"Many businesses and universities promote carpooling through carpooling software.  The best packages cost about $10,000/year, funds that the College does not have.  But the cost is worth it," said Potter in an email. "Many of these packages are similar to Facebook, in that they allow people to communicate with potential carpool partners to get to know them, as it's not advisable to jump into a car with a stranger. The better sites allow some sort of authentication, so that you know you're communicating with a TCNJ member. They also have mapping functions and ways of tracking how many emissions and money has been saved through carpooling."
According to Heuring, the iCarpool website is just one of many initiatives that have been taken by the PC3 to improve the campus' carbon footprint – with the goal being carbon neutrality on TCNJ's campus by 2040.
Among other activities, the PC3's work on campus has also led to the purchase of new equipment to enable the Office of Building Services to enhance and improve recycling, the upgrading of the College's cogeneration facility from a 3.2 MW to 5.2 MW rating, the conversion of campus parking garage lighting to high efficiency T-8/CFLs lighting, and the installation of solar photovoltaic cells to power lights in the Maintenance Building.
Additionally, the College's Grounds and Landscaping Service has opted to plant low maintenance and native plants at new construction sites and replace high maintenance plants at old sites in order to reduce water requirements and pest management practices.
It was also partly due to the work of the PC3, says Heuring, that the College began offering its first-ever environmental studies concentration in 2009.
Like the environmental studies curriculum, iCarpool is one more way to get students and faculty involved in making an environmental difference on campus.
According to Heather Camp, coordinator of the Bonner Center for Civic and Community Engagement and a new PC3 member, the iCarpool website will be easy to use. Students will just need to create a login, enter trips to or from campus (for personal or professional reasons) and the website "can then configure information about their commute such as public transportation options, the estimated cost of the trip each way, potential ride-share opportunities, or commuting achievements (for example if carpooling with others)" she said in an email.
However, whether the web service, which is costly, remains on campus will depends on its success in attracting users, said Potter.
"I hope that students, staff and faculty can make the most of the free trial period that we have left to show that investing in carpooling might be a worthwhile investment when the free trial period runs out," he said in an email. "I think the investment would be quite rational for The College … Say we have 2,000 commuters and only 200 of them use a carpool service for an annual savings of $500/each, which quite a conservative estimate.  That's a savings of $10,000/year, which would buy the most expensive carpool package."