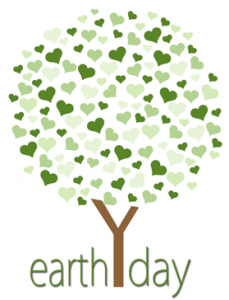 In honor of Earth Week 2012, three student groups at The College of New Jersey are coming together to  promote green living and awareness on campus.
The Bonner Center for Civic and Community Engagement's Environment Team; Water Watch, an environmentally concerned student organization; and students of Ecofeminism WGS 374, taught by Professor of Women's and Gender Studies Janet Gray, have all collaborated to create TCNJ's Earth Week 2012.
From Monday, April 16 to Friday, April 20, students and faculty are invited to participate in activities designed to promote awareness and appreciation for the Earth's environment, sustainable living and green living.
Scheduled events will range from the academic and globally oriented — including a science colloquium on climate change led by Nobel Laureate Henry Pollack — to smaller awareness-promoting events, such as organic food giveaways and a screening of the 2008 Disney Pixar movie Wall-e.
Monday, April 16: Water
Spot the Difference: Students will be able to try to test the difference between bottled, tap and Eickhoff Dining Hall water in the Brower Student Center (BSC) from 11:00 AM to 1:30 PM.
Make Your Own Pinwheel: Students can decorate their own pinwheels, which will be planted around campus during the week, in the BSC from 11:00 to 1:30PM.
Flower sales in the BSC from 11:00 AM to 1:30 PM
Tuesday, April 17: Recycling
Students who donate to Water Watch's table in the BSC from 11:00 to 1:30PM will receive a free recycled craft.
Recycling Police: Volunteers will stand by the recycling bins in Eickhoff Dining Hall from 11:00 AM to 1:30 PM during meal equivalency time to educate students what is allowed to be recycled.
Free organic chocolate covered strawberries will be available in the BSC from 11:00 AM to 1:30 PM.
Occupy the Earth: Speaker Chris Williams will discuss Strategies and Solutions to the Ecological Crisis in Physics Building Room 317 of the Science Complex at 7:00 PM.
The pinwheels sold yesterday will be planted on the lawns today.
Wednesday, April 18: Garden and Cleanup
Help Clean Up TCNJ: Students interested in making campus a greener place should meet by the TCNJ Garden at 11:40 AM to clean up the grounds around the lakes until 2:00 PM.
Planting the Garden: Volunteers are needed to till and plant the garden. Shifts will be from 12:00 PM – 2:00 PM and again from 2:00 PM – 4:00 PM.
Ice, Water, and Climate Change: Nobel Laureate Dr. Henry Pollack will be discussing his work and answering questions in Physics Building Room 122 from 11:00 AM to 12:00 PM. Then, he will be giving a talk of climate change in the Mildred and Ernest E. Mayo Concert Hall from 3:00 PM to 4:00 PM.
Flower sales will take place in the BSC from 11:00 AM to 1:30 PM
Thursday, April 19: Sustainability
Did you know that TCNJ is Sustainable? Come to the BSC between 11:00 AM to 1:30 PM to learn about TCNJ's efforts to be green.
Water Watch will be in the BSC giving out free re-usable bags to provide students with an alternative to using plastic bags, especially for shopping, from 11:00 AM to 1:30 PM.
Flower sales and a screening of the documentary Planet Earth will occur in the BSC from 11:00 AM to 1:30 PM.
Friday, April 20: Movie
Wear Green: Students are asked to wear green as a symbol for the ending of TCNJ's Earth Week 2012.
Flower sales will occur in the BSC from 11:00 AM to 1:30 PM.
Energy, Environment and Sustainability: An International Research and Collaboration Initiative: Dr. Himadri Pakrasi from Washington University will be speaking about sustainability in the Library Auditorium at 8:00 PM.
Wall-e Movie Night: The movie will be shown the Travers-Wolfe lounge from 10:00-11:30 PM.
For more information on any of these events, please contact the Bonner Center at bonner@tcnj.edu or the Sustainable TCNJ Facebook page.