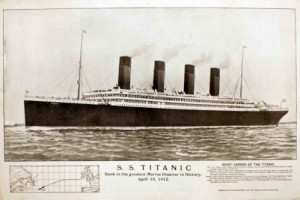 EWING, NJ … The Department of Communication Studies together with the Sarnoff Collection, both of The College of New Jersey, sponsored a panel in the library from 4 – 5:30 PM on April 12, 2012, commemorating the 100th anniversary of the sinking of Titanic (which occurred on April 15, 1912).  The panel, titled "Innovations in Crisis Communication: Lessons from Titanic, Multiple Disasters, and the Shootings at Virginia Tech," featured panelists renowned for their expertise in crisis communication. Partial funding for speakers was provided by TCNJ Cultural and Intellectual Community Program Council.
Moderator: Dr. Paul D'Angelo, Associate Professor, Communication Studies Department, The College of New Jersey, senior author of Doing News Framing Analysis: Empirical and Theoretical Perspectives (Routledge, 2011).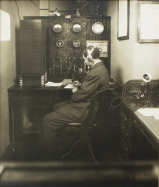 Dr. Alexander Magoun, outreach historian for IEEE, the world's largest technical professional society, is former executive director of the David Sarnoff Library, and the world's leading authority on David Sarnoff and RCA.  His two books are Television: The Life Story of a Technology (Johns Hopkins, 2007), and David Sarnoff Research Center: RCA Labs to Sarnoff Corporation (Arcadia, 2003).
Dr. Magoun spoke on "'Saved by Wireless', or Not: Titanic and the Illusion of Maritime Safety."
When Titanic sank in April 1912, the tragedy accelerated international cooperative efforts to ensure the safety of lives at sea, and stunned an American public conditioned to expect a wireless safety net in any maritime disaster.  Dr. Magoun explained the context of popular assumptions and knowledge about the use of maritime radio in the years leading to the accident, in particular the popularity of an entrepreneur's Broadway spectacular and the Republic–Florida collision.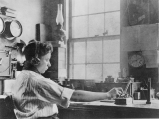 Dr. Lisl Zach, Assistant Professor, The iSchool at Drexel, College of Information Science and Technology,  and member, Task Force on Disaster and Emergency Preparedness, Drexel University.  Recently, Dr. Zach has become involved with specific questions related to the use of social media technologies to provide health information to vulnerable populations and to build capacity-based risk communication systems.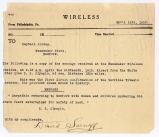 Dr. Zach spoke on "Communication in the Wake of Disasters: Making Sense of Chaos." Whether the precipitating event is a shipwreck, a shooting, or a natural disaster such as an earthquake or hurricane, individuals seek to make sense of their environment by communicating with those around them.  Social media tools have changed the way that communication in times of crisis can occur and have made it possible for people far removed from the site of the disaster to learn what is happening in almost real time.  The presentation drew from examples of the use of social media tools during recent disasters (such as the shipwreck of the Costa Concordia) and examined where crisis communication has come over the past 100 years.
Prof. Kim Pearson, chair of the African American studies program and associate professor of journalism/professional writing at TCNJ, discussed issues in covering trauma and tragedies, relying in particular on two contributions she made surrounding the wanton killing of students at Virginia Institute of Technology.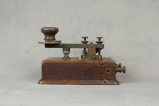 Prof. Kim Pearson spoke on "Covering Tragedy: Lessons from the Virginia Tech Killings."
Prof. Pearson wrote a guide for journalist decision-making in covering traumas and tragedies (Covering Tragedy: Emerging Lessons From the Virginia Tech Killings. Blogher: April 17, 2007 (www.blogher.com/node/18403). In addition, she elaborated a code of ethics regarding limits to the amount of publicity journalists should offer an accused killer regarding provocative photos and manifestos (Cho Manifesto Highlights Challenges for Online News. Online Journalism Review.May 3, 2007. www.ojr.org/ojr/stories/070502/).
"Innovations in Crisis Communication" was organized in conjunction with an exhibit that showcases materials from the Sarnoff Collection at TCNJ and commemorates the involvement of its namesake, David Sarnoff, in rescue efforts following the sinking of the Titanic.  Sarnoff, who later became chairman of the Radio Corporation of America (RCA), was a wireless station manager in 1912. When news of the disaster arrived, he contacted nearby ships and compiled lists of surviving passengers. This exhibit considers Sarnoff's role in the crisis as well as the long-term consequences of the sinking of Titanic as it related to the wireless industry. Highlights include a telegraph key used to transmit messages to the Titanic's sister ship and Sarnoff's first commercial radio license.