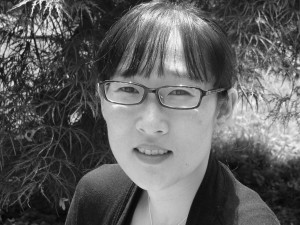 Ewing, NJ… He Len Chung, associate professor of psychology at The College of New Jersey, has won the 2012 Jane S. Halonen Teaching Excellence Award given by the Society for the Teaching of Psychology.
Chung was awarded under the category of professors in their first five years of teaching at any level and placed within Division 2 of the American Psychological Association.
 "We hear it from students and colleagues all the time and pat each other on the back because it's hard work," she said. "But, it's nice to know that other people appreciate it too; outside of this school and outside of this area."
The process all began back in January, when Chung, who has worked at TCNJ since 2007, accumulated all the materials necessary to apply for the award. Most of her work was already put together, so it was just a matter of getting a few letters of recommendations, which Dean Benjamin Rifkin and a couple of fellow professors were glad to write.
Rifkin wrote: "One of the most impressive pieces of evidence of Dr. Chung's excellence as a classroom teacher is the list of students whom she has mentored who have gone on to graduate or professional programs."
Chung came to TCNJ after finishing the National Institute of Mental Health (NIMH) Postdoctoral Scholar Psychiatric Epidemiology Training Program at the University of Pittsburgh. She received her Master of Arts degree in clinical psychology from Temple University in 2001.
Since joining the faculty at TCNJ, Chung has received the Mentored Undergraduate Summer Experience (MUSE) Award twice, working with 20 different students on three publications and 10 presentations at peer-reviewed conferences.
One of those students, Meagan Docherty '10, worked with Chung as a co-author on "The protective function of neighborhood social ties on psychological health," which was published in the American Journal of Heath Behavior.
"Dr. Chung was helpful because she engages students and allows them to take ownership of their own learning process," Docherty said. "She is always eager for new suggestions or ideas. She is very supportive while still letting students gain the hands-on experience that they need, whether it's by conducting their own interviews or running statistical analyses."
Chung's developed this strong suit of utilizing experiential learning through Community-Engaged Learning (CEL) two classes, which are a step above the required CEL experience all TCNJ freshman are required to take, as well as partnerships for her students with juvenile reentry programs and programs affiliated with the Division of Youth and Family Services (DYFS).
"They have a lot of needs in terms of program development and needs assessment," Chung said. "My course basically hooks up with them, finds questions that help them advance their work and our students get to develop their skills and gain knowledge by carrying out these projects."
The Jane S. Halonen Teaching Excellence Award recognizes teaching excellence for early career practitioners and it has been awarded since 2006, when it known as the Early Career Teaching Excellence Award.
"It's doubly nice; just icing on the cake," Chung said of receiving the award. "I would do the work anyway, regardless of the award; the work will continue the way it happens anyway. However, it is nice to be recognized in a different way."