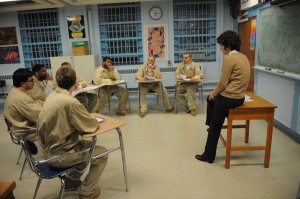 Men with criminal records who have turned their lives around and have made solid contributions to the local community are returning to prison to mentor younger inmates as part of an innovative grant project that is being led by the Bonner Center for Civic and Community Engagement and the Center for Prison Outreach and Education (CPOE).
Nine mentors will be working with 18 mentees at two local correctional facilities every Friday night from September to May.  They will implement a program that strives to build the "internal assets" of the inmates—like confidence or self-esteem—by reading, writing and reflecting together; as well as participating in one-on-one conversations. The goal is to work with men who will return to Trenton and have a positive impact on the capital city.
"This is the opportunity of a lifetime to give back to those facing the challenges I did and to give others my firsthand experience on how to stay out of prison," said Jayson Rogers, who is a leader of Fathers and Men United in Trenton, where he also works as an employee of the Public Works Department.  He is also involved in the Trenton Prevention Policy Board, a grassroots group that is facilitated by Bonner staff and TCNJ faculty that makes annual recommendations on how to reduce juvenile crime in the city.
Psychology students under the direction of Professor Helen Chung are also playing a key role as part of a class-based community engaged learning project.  "This is another great example of how students and faculty can address important issues, like recidivism, while learning and teaching," according to Patrick Donohue, director of the Bonner Center. "It also builds upon the 15 Bonner partner sites we have established in Trenton–most of which can help these men upon their return to society." Donohue, Celia Chazelle (History), Megan Ayers, and Karina Lopez are all leading TCNJ's effort.
This project is part of a statewide collaboration with Rutgers Newark's School of Criminal Justice, the Rutgers Mountainview Program, and the Department of Corrections; all of which are leaders in the New Jersey Society for Transformative Education in Prison.   A total of 23 mentors will be working throughout the state.
For more information, contact Patrick Donohue at pdonohue@tcnj.edu.