EWING, NJ … In the aftermath of one of the worst storms to ever hit New Jersey, The College of New Jersey community has come together to address the many needs of our home state.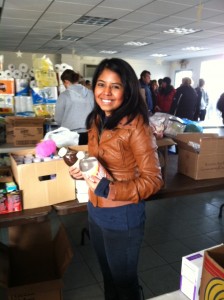 TCNJ, in its mission to be a national exemplar in the education of those who seek to sustain and advance the communities in which they live, is dedicated to helping New Jersey recover and grow following Sandy.
Feeling a strong responsibility to come to the aid of the entire New Jersey community affected by the storm, TCNJ's "Here for Home" campaign is dedicated to coordinating the College's relief efforts after the devastation of Sandy.
So far, TCNJ's efforts have touched the local community as well as some of New Jersey's hardest hit areas. Individual students, clubs, athletic teams and Greek organizations have taken action to support their state. Examples include:
Collection Drives
Clean up of Ewing's Moody Park
Delivering supplies and food to Belmar
Reaching out to shore communities to help assess their greatest needs
Assisting the Point Pleasant Supply Station move to a new location
Student-sponsored blood drive
Organizing cleanups in Point Pleasant, Neptune, and Toms River
Fundraisers to benefit the American Red Cross
TCNJ students and alumni have been active in their own communities, too.
Dana Dabek `04, a graduate of Washington Township High School in Sewell, put in for vacation days from work to help coordinate clothing donations and hot meals in Ocean City with her mom. She had only recently started her job, so she used all of the vacation time she accrued toward helping with the recovery, but she did it without a second thought. "[Ocean City] has been our family beach for three generations so it's an important place to us," she said.
Home from school on fall break when the storm hit, TCNJ freshman Theresa Soya of Shrewsbury saw first hand the devastation that took place along the coast. Before she even arrived back to campus, she was working diligently to organize a clothing drive in her residence hall, spreading the word on Facebook and through email to fellow residents.
"I'm so proud to go to this college where my peers have made such efforts to help those in need," said Alyssa DeSimone, Soya's roommate.
For more information about TCNJ's efforts and to get involved, visit Here for Home.