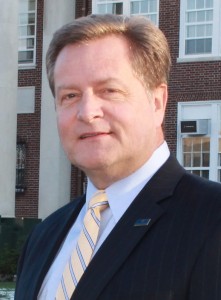 EWING, NJ … After completing a national search, The College of New Jersey has named John P. Donohue as its vice president for college advancement, where he will oversee the College's alumni relations, communications, marketing, major events, and government and community relations functions. He will also serve as executive director of TCNJ Foundation, the College's fundraising arm. Donohue's tenure began on October 22, 2012.
"I was drawn to TCNJ by its track record of success and its commitment to providing the highest quality education to its students and service to its alumni. It is an honor to join this community," Donohue said of what attracted him to the College.
Bringing with him more than 20 years of experience in fundraising and institutional advancement, Donohue most recently served as executive vice president for development at the United Negro College Fund (UNCF), where he raised more than $650 million over an eight-year period. He also enjoyed successful tenures at Dillard University, the University of Texas at San Antonio, the State University of New York at Stony Brook, and the United Way of Long Island. At Dillard, he grew private donations by 80 percent, and at UT San Antonio private support increased by 42 percent under his guidance.
Donohue is a graduate of the State University of New York at Oswego and participated in the Institute for Educational Management at Harvard University.
"John brings to TCNJ an exemplary record of success and creativity," said TCNJ President R. Barbara Gitenstein. "He was embraced by our campus community during the search process and is a welcomed addition to the College's leadership team."