Findings from a national survey released today show that students at The College of New Jersey are highly engaged in their academic experience – both inside and outside of the classroom – and that TCNJ undergrads rank above their peers across five key benchmarks.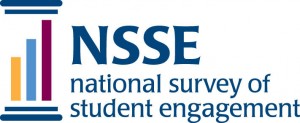 Designed to measure student participation in programs and activities that institutions provide for their learning and personal development, the results from the annually-administered National Survey of Student Engagement (NSSE) provide an estimate of how undergraduates spend their time and what they perceive they have gained from attending college. This year's report, Promoting Student Learning and Institutional Improvement: Lessons from NSSE at 13—Annual Results 2012, details results from a 2012 survey of 285,000 first-year students and seniors attending 546 U.S. colleges and universities. A core purpose of the NSSE project is to provide actionable information to inform the improvement of undergraduate education.
The five key benchmarks are created from clusters of survey questions that best represent these practices: Level of Academic Challenge, Active and Collaborative Learning, Student-Faculty Interaction, Enriching Educational Experiences, and Supportive Campus Environment. Two benchmarks in which TCNJ scores particularly high are Enriching Educational Experiences (EEE) and Supportive Campus Environment (SCE). By their senior year, 21 percent of TCNJ students have studied abroad, and 76 percent have participated in community service or volunteer work.  Ninety-one percent of first-year students report that their peers are friendly, supportive, and give them a sense of belonging, and 85 percent of seniors would choose TCNJ again if they could start their college career over.
With regard to academic challenge, 58 percent of TCNJ first-year students perceive that they frequently work harder than they thought they could to meet faculty expectations. Sixty-three percent report that their exams strongly challenge them to do their best work.
"These results confirm TCNJ's commitment to an excellent and challenging educational experience," said TCNJ President R. Barbara Gitenstein.  "Our faculty and professional staff take pride in their work and in the intellectual engagement that characterizes the community."
"These findings offer compelling evidence that positive change is not only possible, it's happening on many campuses," said Alexander McCormick, NSSE director and associate professor of educational leadership and policy studies at Indiana University Bloomington.
For more information about NSSE, visit http://nsse.iub.edu/