EWING, NJ … Sam E. Antar, former CFO of the notorious Crazy Eddie Inc., a company once coined "The Darth Vader of Capitalism," will speak at The College of New Jersey on February 20, discussing his past involvement in the 1987 Crazy Eddie scandal and his present position as an educator and consultant. The free event will take place at 6 p.m. in the Mayo Concert Hall and is open to the public. Discussing securities frauds of the past and the present, this lecture will be delivered by a man who knows securities fraud from both sides.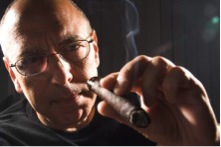 As a reformed white collar criminal, Sam Antar believes that while identifying felons in business "it takes one to know one." A former felon convicted of securities fraud, Antar speaks today as both an independent whistle blower on fraudulent companies and as an educator, relaying lessons learned from the Antar family's 18 year spree of tax evasion, money laundering, and lying to investors.  Sporting a patch of greying hair and a tale of full disclosure, Antar's presentation guarantees both intrigue and instruction, as he recounts the rise and fall of the close-knit family company, unabashedly revealing the strategies used by him, his cousin Eddie and his uncle Sam M. Antar in constructing a fraudulent company.  In addition to his public appearances at Federal and State government events and on numerous college campuses, Antar has recently been consulted concerning the Herbalife pyramid scheme claims and played an integral part in publicizing Overstock's accounting fraud.  His work in preventing and exposing fraud is unparalleled, an effort he labels on his website as an "obligation and responsibility to educate society, so that society can avoid future perils caused by new generations of criminals."
William Keep, dean of the School of Business, expressed the importance of this presentation for students with a future in business. "Well prepared young people will need to enter business with a sense of what not to do, along with a sense of what to do. Having Mr. Antar share with students his decisions and mistakes at Crazy Eddie's that led to his conviction can be very important."
To read more on Antar, his involvement in the Crazy Eddie scheme, and his work today, visit his website at http://www.whitecollarfraud.com/index.html. The event is sponsored by TCNJ's School of Business, the Dean's Advisory Council, and Phi Beta Lambda. Parking for the event will be in lots 4-6 (see campus parking map). Contact Patty Karlowitsch at karlowit@tcnj.edu for more information.