EWING, NJ…Dr. Kent Kirshenbaum's lab is Willy Wonka's chocolate factory if it were co-owned by Bill Nye. Stretchy ice cream, mango caviar, and liquid smoke sound more magical than edible, yet Kirshenbaum, a chemistry professor at New York University, not only creates these chemical cuisines, he studies the chemical bases making them possible.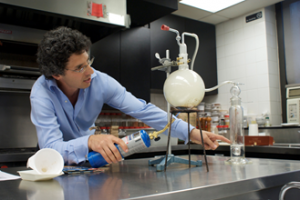 As a part of TCNJ's Week of Science, Kirshenbaum will be presenting his work on the scientific properties of food on March 20 at 3pm. His presentation, titled "Experiments at the Interface of Chemistry & Cuisine," will focus on polymer chemistry, fermentation, pH dependence of reaction rates, and molecular neuroscience, integrating taste, touch, sight, and smell into a truly stimulating hour of scientific learning. Working in conjunction with "Experimental Cuisine Collective," the 2007 cooperative creation of Kirshenbaum and nutritionist Dr. Amy Bentley, Kirshenbaum provides a largely hands-on experience of food and chemical collaboration, providing the opportunity for everyone to better understand and be amazed by the most fundamental bases of their food. His system aims to promote the scientific understanding of food in order to increase knowledge on dietary choices, create new recipes, and improve food production strategies, consequently bettering public health in the future.  Students will be given an opportunity to interact with Kirshenbaum, at the "Meet the Experts" reception following his presentation.
Kirshenbaum's presentation is a part of the College's "Week of Science," an annual event in which science activities are organized by the School of Science's student clubs and organizations in biology, pre-health, chemistry, computer science, math & statistics, and physics & astronomy.  This year, science clubs will be presenting demonstrations and hands-on activities every day in the Student Center from 11:30am to 1pm.
In addition, on Wednesday, March 20, The Atrium at Eickhoff – TCNJ's main dining center – will feature a special lunch titled "Compounds & Cuisine: The Science of What You're Eating" preceding Kirshenbaum's presentation.  With meal choices including liquid nitrogen ice cream, salad dressing powders, and buffalo chicken sushi wraps made through "gelification" of blue cheese dressing, as well as traditional foods, the menu highlights the scientific aspects of meal preparation, as each station will be accompanied by an informational board describing the science behind both traditional and bizarre food-making processes. The Atrium at Eickhoff will feature guest chefs Nick Pawlowski and Jim Turner of Fairfield University, whose bios can be seen here, alongside TCNJ executive chefs.
TCNJ's Week of Science will take place March 18-22, with Dr. Kirshenbaum's presentation taking place on Wednesday, March 20 in the Education Building room 212 at 3 pm.  The lecture is free and open to all TCNJ students, faculty and staff members, and it will be followed immediately by a "Meet the Experts" reception.  For more information about Dr. Kirshenbaum's presentation, his work with experimental cuisine, as well as his work with biomimetic technology, Alzheimer's detection, and bionanotechnology, visit http://science.tcnj.edu/2013/03/05/school-of-science-colloquium-dr-kent-kirshenbaum-experiments-at-the-interface-of-chemistry-and-cuisine/
For more information on the "Compounds & Cuisine" lunch visit the event page.
The full schedule for the "Week of Science" can be found at http://science.tcnj.edu/2013/03/05/student-advisory-board-hold-tcnj-week-of-science-march-18-22-2013/.