EWING, NJ….The College of New Jersey remains a member of the Princeton Review's Guide to 322 Green Colleges, a 215-page handbook recognizing exceptionally environmentally-friendly campuses in honor of Earth Day.  Created by surveying hundreds of United States and Canadian colleges, the guide highlights schools that are taking action to cut carbon emissions, analyzing data about the schools' course offerings, campus infrastructure, activities, and career preparation in order to measure their commitment to the environment and to sustainability.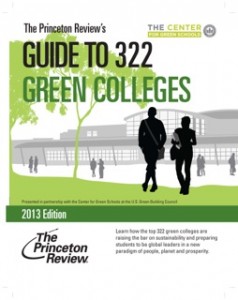 TCNJ sets itself apart in its sheer determination to be carbon neutral. Since creating the President's Climate Commitment Committee (PC3) in 2007, the College has worked extensively with recommendations from the Carbon Fund, supporting renewable energy installations, funding energy efficiency projects, and working to reforest areas surrounding TCNJ in efforts to become carbon neutral by 2040.  Many students campus wide are active advocates of these carbon footprint reduction efforts, planning and implementing environmental initiatives through student organizations such as Water Watch, Roots and Shoots, and the Bonner Center for Civic and Community Engagement. Additionally, the school has recently implemented Sustainability Ambassadors, students who act as liaisons between the general student body and PC3, in efforts to get the whole campus involved in the reduction of carbon emissions. The Guide to 322 Green Colleges: 2013 Edition describes TCNJ's exemplary carbon reduction efforts as "impressive sustainable action," citing TCNJ as a "green leader." Robert Franek, senior VP/publisher of the Princeton Review, said: "We are truly pleased to recommend The College of New Jersey along with all of the fine schools in this book to the many students seeking colleges that practice and promote environmentally-responsible choices and practices."
Published April 16 in celebration of Earth Day on April 22, Guide to 322 Green Colleges: 2013 Edition is the only free comprehensive resource of its kind.   Including facts and stats on school demographics, admission, and financial aid, plus write-ups on each school's specific sustainability initiatives, the guide reports on a wide range of topics including the school's use of renewable energy sources, recycling and conservation programs, and the availability of environmental studies and career guidance for green jobs. The guide can be downloaded at www.princetonreview.com/green-guide and www.centerforgreenschools.org/greenguide.