EWING, NJ … The College of New Jersey will receive $40,000 from the East Trenton Collaborative as part of its first "place-based" community engaged learning initiative, which aims to direct a number of campus-based teaching and learning resources on a portion of the north ward in Trenton. 
"This is a logical evolution for us," said Patrick Donohue, Assistant Provost for Community Engaged Learning Programs and Partnerships. "Place-based learning is a recognized high-impact strategy in higher education circles and we are pushing ourselves to increase our impact in terms of student learning and community change."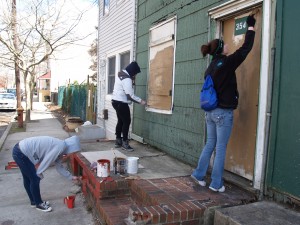 TCNJ Bonner Scholars, students working in class-based projects with their professors, Bonner staff, and VISTA volunteers assigned to the College's community-engaged learning programs will work on eight different projects in the area of the capital city that is generally bordered by route 1 one west, Assunpink Creek on the east, Lincoln Avenue to the south, and Mulberry Street to the north.
The community engaged learning projects include a survey of Bodega owners, helping connect local businesses to the purchasing processes of the College, creating a business plan for a group that aims to create an urban farm around the Trenton Area Soup Kitchen, neighborhood beautification projects, and refurbishing as well as educating local residents about a historic African American cemetery.
Two TCNJ students from Passaic County, Nick Lauda and David Richards led a recent service day that mobilized students to help residents refurbish the exterior of some homes and public spaces in the ETC zone. "No matter how much tangible work with do during these community engaged learning days, the greatest and arguably most important part is that the kids and residents want us to stay or come back," according to Lauda. "We can get a lot done together."
The East Trenton Collaborative adheres to a holistic model of community development and was born out of a desire on the part of local residents and agencies to have some input into how their neighborhood was redeveloped. In December of 1999, Trenton adopted a Redevelopment Plan for the North Clinton Avenue area, the central spine of the neighborhood. The Plan included an assessment of neighborhood conditions as well as suggestions for future public investments.
"We're excited to partner with The College of New Jersey. It is one of the top public institutions in the country and a leader in the field of community and civic engagement," said Andrew Carten, Project Director for the ETC. This builds upon past efforts that were successful and recognizes that collectively we can all have a bigger impact—working in collaboration with the residents and businesses in the area. Sociology Professor Diane Bates added, "everyone benefits when students learn by working on real projects that build their skills and help those in need".
A number of other community organizations are also part of the East Trenton Collaborative. These include CityWorks, Habitat for Humanity, HomeFront, Isles, and the City of Trenton. The Collaborative receives support from the Department of Community Affairs, the Wells Fargo Foundation, and New Jersey Manufacturing.
For more information about the partnership and the projects, contact Madeline Bell at the Bonner Center for Civic and Community Engagement 609-771-2481.