EWING, NJ … Earlier this week, The College of New Jersey announced that it has been recommended for approval for more than $57 million in grants from the state to be used for capital projects supporting STEM (science, technology, engineering, and mathematics) initiatives on campus. As the list of projects moves to the state legislature for review, the College is moving forward with its programming phase for the entire STEM Complex, consisting of a new STEM building as well as renovations to Armstrong Hall and the Science Complex.
A STEM Steering Committee, led by Provost and Vice President for Academic Affairs Jacqueline Taylor, has been assembled to determine the programming of the STEM Complex. Committee members include: Lisa Angeloni, vice president for enrollment management; Marcia Blicharz, interim dean of the School of Nursing, Health and Exercise Science; John Donohue, vice president for college advancement; Curt Heuring, vice president for administration; Jeff Osborn, dean of the School of Science; Lloyd Ricketts, treasurer; and Steven Schreiner, dean of the School of Engineering. Once the programming has been determined, the design phase for the new STEM Building will begin.
Of the project, Provost Taylor said: "This is a truly exciting time in our history. We have the opportunity to construct facilities that match the caliber of the stellar programs in STEM education we have at TCNJ. We will be able to enhance our ability to offer the kinds of undergraduate research and professional preparation that are hallmarks of a TCNJ education."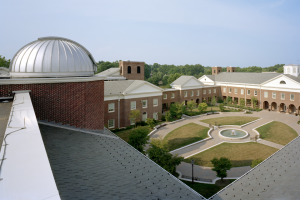 Approved by voters in November 2012, The Building Our Future Bond Act provides $750 million in grant money to state colleges and universities. The state is making available a nearly equal amount through the Higher Education Capital Improvement Fund, the Higher Education Facilities Trust Fund, the Higher Education Technology Infrastructure Fund and the Higher Education Equipment Leasing Fund.
TCNJ will use the money for four major projects, including $41 million toward the construction of a 76,000 square foot STEM building. $3.5 million will expand technology infrastructure; $6.9 million will upgrade and expand learning and research equipment in the School of Science, School of Engineering, and School of Nursing, Health & Exercise Science; and $6 million will assist in the renovation of the Science Complex and Armstrong Hall.
"I am tremendously excited about the opportunity that this state investment offers TCNJ, and am thankful to the governor and the state legislature for making this a priority," said TCNJ President R. Barbara Gitenstein. "I want to thank everyone who had a hand in crafting these documents for the application process. There is much more work to be done and I look forward to receiving the recommendations on the specifics of the new STEM building that will come from the Steering Committee, under the leadership of Provost Taylor."